By Jimitota Onoyume
WARRI—IJAW Youth Council, IYC, has expressed concern over Federal Government's delay in enforcing its directive that international oil companies, IOC, should relocate their corporate headquarters to the Niger Delta region.
National president of the body, Mr Eric Omare, in Warri, Delta State yesterday, said the presidential pronouncement by the Vice President,  Professor Yemi Osibanjo, while he acted as President of the country, was going the same way  as other unimplemented promises to the Niger Delta region by the Federal Government.
Omare, who  congratulated ex-militant leader, Chief Government Ekpumopolo aka  Tompolo, for attaining the age of 47, further lauded the Federal Government on the resumption of academic activities at the Maritime University, Okerenkoko, Delta State.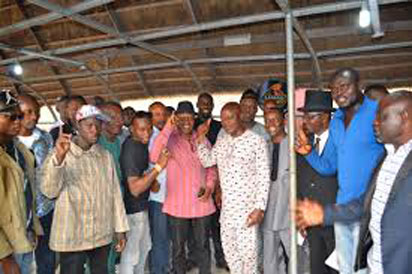 He enjoined the government to drop all charges against the ex- militant leader.
"IYC decries the lukewarm attitude of the Federal Government to the demands of the Niger Delta people. It will be recalled that at the peak of the renewed Niger Delta hostilities spearheaded by the Niger Delta Avengers, the Federal Government made far reaching promises, including relocation of the corporate headquarters of multinational oil companies to the Niger Delta region. However, we note with dismay that this very sensitive presidential pronouncement which was made by then acting President Yemi Osinbnajo, is almost going the way of previous promises by the Federal Government to the Niger Delta people.
"We also note that key projects that were ongoing in the Niger Delta region had been relegated to the background such as the deliberate non-funding of the East-West Road by the Federal Government despite assertion of increased capital funding for projects. The key demand of the Niger Delta people for  federalism where they would have control of their resources has not also been attended to.
"However, the IYC commends the Federal Government for fulfilling its promise to kick-start academic activities at the Nigerian Maritime University, Okerenkoko, Delta State. As at the time of issuing this statement, more than 200 pioneer students have resumed for academic activities at the university. We commend this display of good faith by the Federal Government led by President Muhammadu Buhari and call on him to remobilise contractors who were working at the permanent site of the university to go back to site," he said.
"It would be recalled that construction activities were massively ongoing at the permanent site of the university before they were put on hold because of purported EFCC investigations. Now that the university has started academic activities, the IYC strongly urge the former Governor Timipre Slyva led maritime university governing council to facilitate the recommencement of construction activities at the permanent site.
"In conclusion the IYC urge that the charges against Chief Government Ekpemupolo by the Federal Government in relation to the sale of the temporary site of the Maritime University should be dropped. It amounts to great injustice for the Federal Government to be using the former Mekadive Diving School, Kurutie, Delta State which NIMASA acquired from Chief Ekpemupolo as kick-off campus of the maritime university and at the same time trying him in court for the sale of the same property."