By Peter Duru
Makurdi – A Nigerian army personnel, name withheld, posted to Logo local government area of Benue state on special duty was on Sunday evening reportedly waylaid and shot dead by suspected herdsmen along Anyiin-Gbeji road while on a commercial motorbike.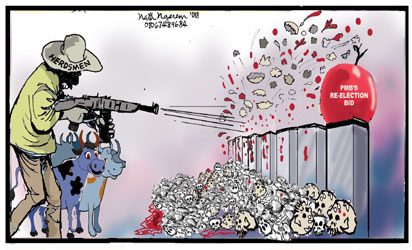 Vanguard gathered from a source in the area that the personnel was traveling on a commercial motorcycle from Uwev, where a platoon is based in Gov axis near Gbeji, to Anyiin when he was gunned down.
According to the source, "we learnt from his colleagues that he had earlier received a call from his wife that the family was in need of money. So he took permission to head to Anyiin to do a back transaction.
"He boarded a commercial motorcycle around 5pm and on the way they ran into armed herdsmen who were grazing freely on the axis near Jootar.
"They tried to flee from the place but the armed herdsmen opened fire and shot him from the back after which they fled with their cattle far into the bush.
"The bike rider whose motorbike was also taken away by the attackers managed to escape into the bush unhurt from where he raised alarm.
"On hearing the development, soldiers moved to the scene but they could not catch up with the attackers. The victim was immediately rushed to the hospital at Ayiin where he later died because he lost a lot of blood.
"But before his death, he told his colleagues to the hearing of everyone present what happened and all efforts by the medical personnel on ground to save his life proved abortive."
The source disclosed further that the vast and expansive Anyiin-Gbeji road had in recent time become a hideout for hit and run armed herdsmen who sometimes mount road blocks on the axis to attack unsuspecting travelers and motorist.
"I hope they will go after these herders the way they did in Naka town where they razed close to 300 houses when an army personnel was mistakenly killed by a mod in the area." He added.
Meanwhile, suspected herdsmen who specialized in cattle rustling at the weekend, attacked Doo Farms Limited, in the outskirt of Makurdi town, beside the Makurdi Medium Prison, rounded up and stole 35 cows in the private farm.
An eyewitness told Vanguard that the armed herdsmen stormed the ranch at about 2am and started shooting sporadically forcing the security man on guard in the farm to flee for his life.
"The guard shouted for help but nobody including personnel at the prison had the courage to go close. They ransacked the farm house, took away all the foodstuff and the 35 cows in the ranch. Moments later we saw the police moving into the farm." He added.
When contacted, the Assistant Director, Army Public Relations, 707 Special Forces Brigade Makurdi, Major Olabisi Ayeni said he was yet to receive the report of the incident, promising to get back to our reporter.