Arsene Wenger's final match at Old Trafford as Arsenal manager ended in defeat with a stoppage time header from substitute Marouane Fellaini earning the points for second-placed Manchester United.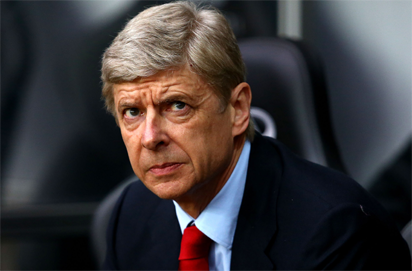 There was a pre-match presentation from Jose Mourinho and Alex Ferguson to Wenger shortly before kickoff.
Paul Pogba drove United into the lead in the 16th minute, pouncing after Alexis Sanchez had headed a Romelu Lukaku cross against the post.
Arsenal, fielding a largely second string side, drew level in the 51st minute when Henrikh Mkhitaryan, signed from United in January, beat David De Gea with a well-placed effort.
United's Marcus Rashford had the ball in the net in the final minute but the effort was ruled out for offside before Fellaini headed in the stoppage time winner from an Ashley Young cross.
Arsenal manager Arsene Wenger in his post-match comments said that his young team gave a good account of themselves, adding that they deserved a little more.
"It was a good performance. It reflects a little our away season. We had chances and on the counter we did not use our opportunites as well as we could have.
"It was very positive for the young team, but it is very disappointing in the dressing room and I think in the last 20 minutes you can see that some of the players are not used to that pace and intensity.
"It is good to see them in this atmosphere – who can win challenges. You can know their level, but you see what they can produce. It was hard to name a bad performance in our side."
On the pre-match presentation from Jose Mourinho and Alex Ferguson, Wenger said it was very 'nice and classy'.
"I enjoyed it. I have come here for a long long time. Next year, someone else will be in the dug-out and it will be a hostile environment again."
Manchester United manager Jose Mourinho on his part noted that his team was a bit lucky to score in injury-time.
"I think if it was a draw it wouldn't be unfair. Arsenal did a good game, they defended well, but we were the team that tried to win that created a few more chances. But that is normal.
"We were a bit lucky to score, but we were stronger in the last 20 minutes.
"We won three points that kill the Champions League story. But we still need four points to finish second which is what we want."
On Arsene Wenger's send-off he said: "I think we did it fantastically well as a club. It would mean more for Alex to do it. I only played Mr Wenger three or four times as United manager."
NAN