Dear Bunmi,
My husband of 18 years and I have finally agreed we would be better off apart. He is a very virile man but I don't really enjoy sex and I would rather move on with my life.
We have two lovely teenage children and for family stability, my husband has decided to move into another apartment of ours.
Naturally, he would have a love life but that's the least of my problems. We both worship our kids and would love to know how to let them know their parents are getting divorced.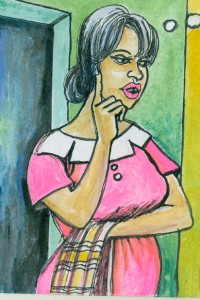 Sunbo, by e-mail.
Dear Sunbo,
All kids react to the news that their parents are divorcing in different ways.
Some retreat into themselves, others might misbehave or rebel. While there isn't a magic wand you can wave to make their pain go away, there are things you can do to make the process easier.
Since the break-up is amicable, there is no danger of either of you bad- mouthing each other in front of the children. That's why you and your husband should tell the kids together-presenting a united front is very important.
Let them know how much you both love them and stress that this isn't about you and them. Explain the basics of what is going to happen and encourage them to ask questions.
After you've broken the news, try to spend a few minutes a day alone with each child. This will give them the opportunity to talk if they want to.
Also, it might help if you could give each child a small notebook in case there is anything they want to talk about but found it difficult to say aloud.
They could then write in the notebooks and leave them where any of the parents could see them. This might encourage the kids to open up. Good luck.