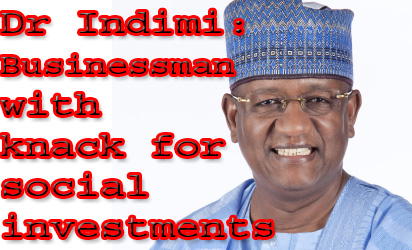 Indimi
By Emeka Anaeto, Business Editor
THE Vanguard Businessman of the Year is conferred, not just on any rich man, but specifically, on one with impact and imprint on the industry he/ she operates in, as well as creating diversified value in the industry value chain and the society at large. In 2017, Alhaji (Dr.) Muhammadu Indimi (OFR) met the several measures employed by Vanguard Editors in selecting one out of the so many qualified Nigerians.
Born into business: Alhaji Muhammadu Indimi was born on August 12, 1947 in Maiduguri, Borno State, to a trading family. His father, Alhaji Mamman Kurundu, was a renowned trader in hides and skins in his time. Like most children in Northern Nigeria, Dr. Indimi was not fortunate to pursue formal education – partly because the number of schools were limited at the time, with the result that majority of children were deprived of what is known as Western education.
Given this situation, parents who were unable to place their children in the few available Government schools, ended up sending their children to attend Quranic schools.
Dr. Indimi's business acumen and achievements are significant proof that he has been a very good student of his father who had introduced him to commercial transactions at a very early age of 10. At the young age of 16 years, the young Indimi launched his first business venture by establishing a bicycle rental outfit. When his father saw the early enterprising qualities in him, he gave him capital to help him start his own business.
Business interests: Amongst many other entrepreneurship landmarks, he is the founder and chairman of Oriental Energy Resources, Limited, one of the leading indigenous oil and gas companies in the upstream sector. He is the Chairman of M & W Pump Nigeria Ltd, which had partnered with MWI Corp of Deerfield, Florida, USA. He founded many successful indigenous companies and sits on the Boards of Arab Contractors O.A.O. Nigeria Ltd; Jaiz Bank Plc and International University of Africa, Khartoum, Sudan.
Strategic positioning
The key value for us is Indimi's model and approach to the hydra-headed issues in the oil sector, the rare rigour, perseverance and strategic positioning employed to get Oriental Energy to where it has become a force to reckon with in the industry both locally and internationally. His is not a flight-by-night success story.
Dr. Indimi has over 24 years experience in the Nigerian upstream oil and gas sector. Founded in 1990, Indimi's Oriental Energy had to endure the huge challenges of making an impact in the industry dominated by big multinationals with vast resources and global reach. Yet within a reasonable time Oriental Energy had expanded its activities with assets in offshore Nigeria. These assets include the Ebok Field (OML 67), Okwok Field (OML 67, and OML 115).
The privately held Nigerian oil exploration and production company had passed through the rosy and the rough paths of the industry in Nigeria including youth restiveness in the Niger Delta region which he had managed skillfully to the mutual benefits of the company and the community.
Indeed the company, Oriental Energy, is a story of tenacity and perseverance. Starting from a modest Block OPL224 offshore Nigeria granted it 27 years ago, it converted OPL224 into OML 115 and have added both the Okwok and Ebok assets to their portfolio.
Through aggressive exploration and drilling programmes, the Ebok Field began production in the second quarter of 2011 which initiated the largest development programme for an indigenous Nigerian oil company to date. Thereafter the Okwok Field began production in 2015. Oriental has also developed an offshore production hub centered on the established Ebok Terminal which is used for the storage and offloading of crude oil.
His social investments: Vanguard Editors also reckoned with the impact of Dr. Indimi's wealth on the society especially the immediate community where the wealth is created. He and his company are considerable contributors to the empowerment of local host communities. Dr. Indimi is a humanitarian and a philanthropist and has received numerous awards as well as honorary doctorate degrees from notable universities in Nigeria, Ireland and the United States.
Dr. Indimi's philanthropic activities cut across education, health and social welfare, housing and critical aid provision. Recently, his company, Oriental Energy, launched a N700 million modern residential estate of 100 units in Enwang, headquarters of Mbo Local Government Area of Akwa Ibom State. The estate named, Oriental Village, Mbo; when completed will have a solar-powered electrification system, a school, clinic and a shopping centre. It will be given out free to the beneficiaries. The project is funded by Oriental Energy and the Muhammadu Indimi Foundation as a legacy project for Oriental Energy's host communities.
Since 2009, Dr. Indimi, through Oriental Energy Resources, has awarded over 470 scholarships in Akwa Ibom State, created a sponsorship program for the University of Uyo's Department of Petroleum and Chemical Engineering as well as trained and awarded start-up funds to over 270 youths from the State at seven Skill Acquisition Centres in Uyo, Oron, Eket and Enwang in Akwa Ibom State, all of whom received starter packs.
In addition, Dr. Indimi has trained 500 women, 200 of whom were awarded seed funding to start new business. In the University of Uyo between 2011 and 2013, Dr. Indimi, through his company, had invested almost $2 million in the upgrade of laboratories and library in the Department of Chemical and Petroleum Engineering to secure the department full accreditation by the National Universities Commission, NUC, and the Council for the Regulation of Engineering in Nigeria, COREN.
Oriental Energy is presently engaging other operators in Akwa Ibom State to create a sustained funding programme of sponsorship for the Department of Chemical and Petroleum Engineering into one of the top 10 departments of this discipline in the world. In 2010, Indimi invested over $5.6 million in social investment project programmes to impact over 11,000 persons.
His company has constructed three science laboratories for Physics, Chemistry and Biology for secondary schools in Ebughu, Akwa Ibom State. The company equally constructed 14 en-suite rooms with teachers' quarters to encourage teachers retention in Effiat host community as well as a health centre and doctor's quarters also in Effiat, and empowered over 50 fishermen in Mbo with complete fishing gears of five fibre boats fishing nets and sundry items.
In his home state, Borno State, Oriental Energy has provided support of food, machines, and clothing to the Internally Displaced Persons (IDP) Camp, a 100-unit N600 million housing estate as well as a school and clinic.