By CHARLES KUMOLU
In this revealing encounter, we present the fascinating account of a man, who with tenacity and can-do-spirit changed his life from the sad direction it took at the age of 13.Born and raised in the agrarian town of Ubiaja in the then Midwest State, Chief Omo Aisangbonhi defeated obstacles to become one of the wealthiest in his community and a major player in Nigeria's real estate sector. He owns Omais Investment, a multi-million dollar real estate firm. He saw his early denial of love and care as a reason to conquer the world. Today, he has qualifications from the North London University, and Amersha College, England. He is an alumnus of Harvard Business School, Lagos Business School, and School of Health Technology, Pankshin, Plateau State. Aisangbonhi has business interests in Europe, North America, and Asia.
Notwithstanding these achievements, his life had at certain phases been challenged by circumstances that threaten hope.
His long road to success has been a journey of expectations raised, dashed, and revived. With the candour that reveals a man, who has surmounted several challenges, Chief Omo as he is fondly called discusses the forces that have shaped his life.
In the beginning:
I was born 50 years ago in Ubiaja, Edo State. Life was not smooth for me as some people might think. I attended primary school in the village like every other child. I experienced village life like anyone, who grew up in the village.   I was at Ubiaja with my father. He had a chemist (pharmaceutical store). My father was the chairman of patent medicine dealers' association in Esan Kingdom.   My stepmother was a midwife. We had a chemist in our house. I was helping out at that time while still attending school. But something happened that made me leave home at the age of 13. My father sent me out of the house at that age and I found myself in Benin the then capital of Bendel State. My mother was not living with my father at that time because she left me with my daddy when I was nine months old. Sadly,   the man she later got married to did not want any burden.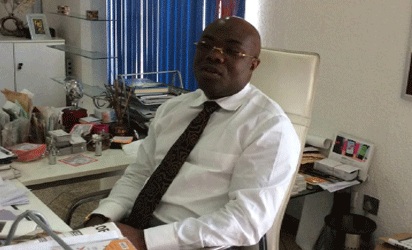 That was why  she did not take me along. I remained with my father and my stepmother in the village until I was sent away at 13.
Beginning of my struggles
My stepmother died while I was still living with my dad. There were things that happened that forced me to leave home.  Leaving home for Benin at that age was the beginning of my struggles and independence. I was left to fend for myself at that age. I found myself working at different fuel stations in Benin City. I was a petrol attendant at many fuel stations in Benin.  I knew I was alone and had no option than to become resourceful. I rented my first apartment at 14.
Challenges I faced in Benin
My background indirectly prepared me for the challenges I faced in Benin because before leaving Ubiaja, I used to help out at the chemist store.  I will say that it was one of the things that imbibed entrepreneurship skills in me. The background made me say that I will become a doctor. My dream was to study medicine and become a doctor. But the early challenges I faced did not permit me. To earn a living,  I worked at different fuel stations in Benin to ensure that I saved enough money to train myself in school because my father's children were in school. Instead of bemoaning my condition, I worked hard to ensure that I acquired education to avoid not being left behind. I told myself that I would not want to be called a failure because I was sent out of our home. I saw it as a challenge to be the best. From the little money I was making as a petrol attendant, I was able to enroll for the West African School Certificate Examination at the Institute of Continuing Education in Benin-City. I knew early in life that without factoring education into my plans, I might not achieve my dreams.
Starting life early
Having started life earlier than I thought, I never looked back. I made hard work my watchword.   I later left Benin for the north where I established the first chemist at the National Institute of Strategic Studies, NISS, Kuru.  I was very young then, but I was just determined to succeed.  I didn't consider my age a hindrance to the things I set out to do. At Kuru we had people from the military who came for professional courses. I had friends among them. But I was running into problems with the medicine sellers' union there, who were often disturbing because I didn't have the license to operate a chemist. There was a time they arrested me and took me to the police station. The last call I received when we were starting this interview was someone, who helped me  at NIPPS when I was arrested. He was a military officer then. My friends in the military assisted me to ensure that I was released. When I realised that the troubles were becoming too much, I decided to sell my shop at the rate of N9000 in 1989.
Travelling abroad
I traveled abroad for greener pastures with the money I realised from the sale of my shop.  The most interesting aspect of my life is that I value people so much and treat them equally.  At most stages of my life, there were instances of falling and rising. I never allowed any circumstance to stop me from making the next move. I have always been on the move because of the circumstances of my birth. My destination was Spain but I did not stay long there because of the language barrier. I needed a place I could easily build a better life and London became the alternative. That was how I left Spain for the UK where I later found myself in the mortgage sector. In the UK, I did what every other migrant like me was doing. I did menial jobs to survive. I knew why I left Nigeria and did not feel bad or diminished doing odd jobs to survive.
Breakthrough in the UK
My breakthrough in the UK was also a product of focus and ideas. I met a Nigerian, who had a council flat but did not reside in it. A friend and I stayed there and were paying him the rent. Even when Council officials came, they thought we were the owners. Since there
was no default in the payment, we were given the right to purchase it, which both of us did. That was how I started real estate business. I refurbished the flat and sold it and made enough money than I could ever imagine.
Defeating cancer
It has just been me through the grace of God that I became who I am today. If not for God's grace, I will not be here today discussing because I am a cancer survivor. I don't smoke but I was later diagnosed with cancer. It was a terrible experience but the same grace of God ensured that I survived it. I am a cancer survivor. My life is one that I believe has so many lessons for the youths of today, whose future has been mortgaged by our leaders.  When I was diagnosed with that stage of cancer, I did not allow the situation to overwhelm me because the hand of God had been instrumental to what I am.
Returning to Nigeria
In the UK, we were firmly established in the mortgage sector. When the then President Olusegun Obasanjo visited the UK during his numerous visits to woo investors, he talked to us to come home and invest.  We believed in his message that Nigeria was witnessing a new beginning. That was why I returned to the country to invest in the real estate sector which is a familiar turf. Initially, things were fair but the economy is so harsh now. The value of my total assets is not what it was in 2014. It has drastically depreciated which is a true reflection of the harsh business climate. All these are the consequences of poor leadership. Our leaders made this country what it is and they have been unfair to this generation. If our leaders experienced the hardship this generation is experiencing, they would have found it difficult getting to the age of 30.
Landmark projects
With the vision to develop property that provide long-term value, I have built a multi-million dollar company that has landmark projects to its credit. One of them is the Trinity Mall Ikeja which was constructed with N600 million. It is regarded as the flagship commercial project of OMAIS Investment Limited. We ensure that we keep our clients' needs and wants central, and in the process, we deliver long-term relevance of our products and services. We aim to be a world-class Property Development Company that is a benchmark for other organisations in developing and building exquisite homes for both the upper and middle classes.
We have done so many big projects for different classes of clientele. While Omais International is structured to collaborate with Omais Investment on international business ventures, Omais Farms is engaged in mechanized farming in Oria in Edo State.
The Farm with over 130,682 Hectares of land cultivates about 50 hectares of Oil Palm Plantation and produces palm oil on a large scale for wide distribution.
In line with the initiative of the Federal Government, Omais Farms is also engaged in large-scale cassava farming.
Subscribe for latest Videos