By Jimitota Onoyume
WARRI—IT WAS a moment of frank talk at the just concluded Itsekiri International Summit in Warri, Delta State,  with the theme "Strategic Importance of Interventionist Agencies and their Relative Economic and Infrastructural Impact in Warri Kingdom."
The programme was largely conducted  in Itekiri dialect except for Professor Tony Afejuku, who read his keynote address in English Language.  The various speakers had pieces of advice on how to advance the course  of Itsekiri nation.
It was like a hot seat for Mr Mofe Pirah, who is pioneer Chairman of Itsekiri Regional Development Council, IRDC, as  he gave account of his stewardship to the gathering.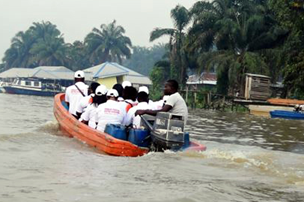 At a  point during the programme, one of the organisers  had to plead with  him to occasionally add English Language to his Itsekiri for sake of itsekiri in Diaspora following the programme online.  Mofe who is the  current Commissioner for Oil and Gas in the state, said the forum should challenge Itsekiri youths to develop passion for speaking the language.
Prof  Afejuku in his address flayed decay in Itsekiri communities, Delta State, blaming   poor representation by Itsekiri representatives in interventionist agencies at different levels in the country for the development.
He noted that it was sad that Deghele, an Itsekiri community was yet to have the minimum comfort of a borehole in this age of modern civilization.
He said Deghele was not alone in this sad picture of  decay in Itsekiri communities, noting that the  situation in most of the communities had brought about a widespread disillusionment.
He said, "The picture of our land that we see is so dishearteningly bleak that we cannot but hold our representatives in the said interventionist agencies responsible for it. All of them without exception, stand accused and discredited before our very eyes.
"The economic condition and infrastructural of decay of our land are as bad as any can be. While each and every one of our representatives (and the political group or class they represent) glitters  economically, our land is economically and environmentally useless. We know each and every one of these representatives (and their cohorts of bandits christened personal assistants or personal advisers or whatever) very well. What each one was before he found himself in this or that "prestigious" interventionist agency and what each one is today we know perfectly.
"As I deliver this speech, my eyes cannot but stream with tears to see a blessed  people such as ours being led by select persons who are bereft of the patriotic  vitality,  capacity and essential brains and visionary stratagems needed to citify our harsh environment and its denizens."
Provost, College of Education, Warri, Professor Mary Edema who also spoke called on Itsekri youths to embrace education, said this will enable them attract more development to  Itsekiri nation.
"We need education for development, you don't need education to be wealthy," she said, appealing  to Itsekiri not to sell their job opportunities in companies to other tribes, adding that it was not helping to grow Itsekiri.
She further lamented the seeming poor drive among Itsekiri youths to pursue higher education,  pleading that they should develop passion in educational pursuit.
Professor Edema who supported her claim with figures of Itsekiri in  some departments at the newly established Federal University of Petroleum, FUPRE, noting that Itsekiri nation should also strive to always positions itself for gains.
The member representing Warri  federal constituencies in the House of Representatives, Mr  Daniel Reyenieju enjoined Itsekiri leaders to harness their strength to advance the course of the ethnic nationality.