Teachers and pupils in public primary schools in Edo State are in for a new learning experience, as the Edo Basic Education Sector Transformation (Edo BEST) programme kicks off with the State Basic Education Board (SUBEB) receiving caches of textbooks for distribution in schools in Edo State.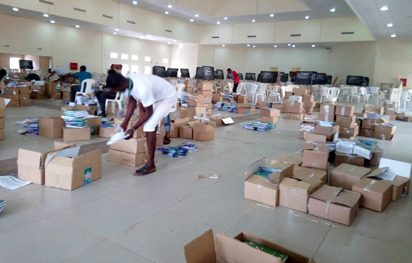 The textbooks will serve as instructional materials for Edo BEST programme driven by the Governor Godwin Obaseki administration and implemented by SUBEB.
The textbooks are coming a few days after the Edo Supporting Teachers for Results (Edo STAR) was flagged off, to equip teachers with the right training and tools, including computer tablets and mobile phones, for technology-enabled teaching in public schools.
The reforms are part of a grand design to reposition public education in Edo State, reposition the style method of teaching to meet demands of 21st century and restore public confidence in the school system.
Governor Obaseki, at the flag-off, said the reforms will revolutionise the public-school system, as government prioritises teacher training and improved learning experience for pupils, with the aid of Information and Communication Technologies (ICT) in classrooms.
Special Adviser to the Governor on Basic Education and Acting Chairman, SUBEB, Dr. Joan Osa Oviawe, said that the textbooks are an integral part of the support structures being deployed to upgrade standards in public schools. She said the teachers are being trained on new teaching methods and will utilise the textbooks in the classrooms to ensure the best learning outcomes.
According to her, "Edo BEST is about imagining the education of tomorrow and starting it today. Governor Obaseki is committed to a holistic change in our basic education sub-sector. On the first day of the training for teachers, over 3000 teachers showed up. The textbooks have just arrived, so we expect that with these and other learning aids, we will record appreciable progress in repositioning public education in the state."
She said that what the board has received is just the first batch of the expected books, as more are still to come, adding, "We are pursuing a holistic education reform and much as we are training teachers to adapt to new ways of teaching, we are also ensuring that they get text books and other aids that support this new way of doing things. So, we expect to see drastic change with the coming of the books and other structures we are putting in place to change the public-school system in the state."
Subscribe for latest Videos