To spend over N30 billion on 8 storm drainage channels, discharge points
Speaks on Fulani herdsmen
Emma Amaize Regional Editor South-South, Festus Ahon  & Ochuko Akuopha
SINCE  August 27, 1991, nearly 27 years ago when Delta State was created, none of the Governors that ruled the state, civilian and military, mustered the finances to deal with the flood problem facing Asaba, the state capital, yet it was noticeably the major impediment disquieting the capital city.
Each year, flood overruns Asaba, the boundary between the state and neighbouring Anambra state. Both government and private establishments are not spared. While residents wondered if there was no government in place, visitors brood over why the capital of an oil-rich state should be such a tragedy.
With only three to five rainfalls in Asaba, this year, the people already have their hearts in their mouths, but the state governor, Senator    Ifeanyi Okowa, who embarked on the construction of storm drains, months ago, told journalists in an interactive session that his government was doing everything to stop the yearly humiliation.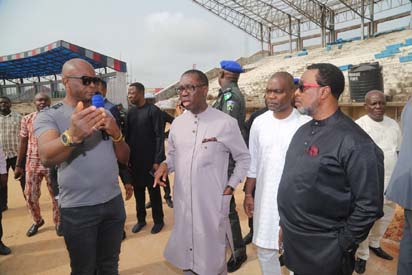 Taking the bull by the horn
To check flood in Asaba and environs, Okowa, however, said his government would spend more than N30 billion on the construction of    eight storm drainage channels, including discharge points.
"We have taken the bull by the horn as regards    flood control in the state; we wanted to be sure that we were on the right path, we did not just want to start constructing drains all over again without bringing solutions to the flood issues in Asaba. So our consultants worked with the Nigerian Society of Engineers to provide us with eight options of drains.
"Storm drainages that we had to undertake as a state, which was put at a total cost of a little above N30 billion and out of the eight strategic network of drains,    we chose to work with three as they were very critical and the total cost of the three is about N11 billion."
"The first one we started with was the one that is going to be within the area of Direct Labour Agency, DLA Road    through Jesus Saves Road,    Agric Road area and that is the construction that is ongoing straight from that area through the Nnebisi Road to the Amilimocha River and I think that the project has gone very far," he said.
Project going on well
Governor Okowa explained: "We    have been promised that the project will be delivered by the end of May, this year, and we are happy to announce that from my inspections, the project is going on very well and I am sure that a lot of us would have had the opportunity to see this construction and for those of us who may not have, I must appeal that for us to be able to do proper reporting, there is a need for us to visit the projects to see what is on going."
He added: "There are two other projects, one of them is the drainage project that will take us through Ambassador Ralph Uwechie Road to discharge to the Anwai stream and that project is already ongoing; the project was awarded about a month ago and work is ongoing and it will take 12 months to complete."
2019 completion date
"So    we may not be getting all the relief within the Okpanam areas all through the rainy season,    but it is our hope that before the next rainy season,    they would have completed the project. So hopefully the project will be delivered by God's grace by the end of February, 2019 and once it is completed,    it is going to drain the larger part of Okpanam, while part of the water coming from Okpanam will be drained through the project that has a discharge point at the Iyi-Abi stream that is across the Asaba/Onitsha expressway.
"And    I am happy to announce that the company working on the Okpanam project has stepped up their pace of work; the third of the storm drainage projects is the one that is going to drain the Delta Broadcasting Service, DBS, area and the adjoining areas around the DBS and that project is a 12 -month project and I hope that they all will be delivered on time because the impact of the projects will only be fully felt in the year 2019.    It is my hope that we can reasonably go far enough before the rains sets in this year," the governor stated.
Count me out of contract scam
On the accusation that he was executing the state's new Secretariat and other projects through cronies, Okowa laughed, saying: "I do not    know how many of us have been to that secretariat that is being built, I am sure that you are proud of what is going on there. If Dr.Okowa has the competence to own a company to build that kind of project, I would be very proud of myself, unfortunately, I do not."
His words: "And the company is not hidden, it is a Chinese company, and those who went with us then saw the Chinese who are there. But I must commend the management because out of the over 160 people working on that site, only 11 of them were brought from China, the other 150 are Nigerians. And the level of organisation, the quality of the work is something that we must be proud of, I am actually proud of them."
"When they first came in,    I was scared initially until we actually proved from their embassy that they were very competent, and truly with the speed,    level of work and organisation at the work site, they are actually people to be proud of. I am convinced from what I have seen at this stage that it is something that will come out well.
"    Probably, I am part of the Chinese government because the company is a Chinese- owned firm. If I have that level of connection in China, I am sure I would have been able to do much more for Deltans, I wish I could but I am not," he said.
Asaba Airport hullabaloo with contractor
Speaking on the disagreement between the state government and ULO Consultants, the former contractor handling the Asaba Airport project, who dragged the government to court after his contract was terminated, he said: "ULO ask for repudiation of contract and we did and gave it to somebody else. He is already in court with us. It is already a subject of litigation, so we have to go the full hug of the court."
"  We are aware that he is owing us some money,    but he said 'no,' that the state is owing him. We have done our calculations and we know that he is owing us. We will meet in court and we are quite convinced that it is only a matter that he will pay back our money," the governor said.
Beleaguered    Delta Line
On an allegation that Delta Line workers were stopping the takeover of the company by God is Good Motors, the Governor asserted: "On the Delta Line, work is in progress. I guess the committee has signed the necessary agreement, the process of takeover is about now. I have to help in paying two months salaries because I hear they are still owing them. We are trying to offset the salary arrears. They are not preventing God is Good    from coming in, I think they are identifying the vehicles and where they are."
"Initially I was told that they were not able to account for 92 vehicles but I have been told that they have been accounted for. The next thing now is to find out which workers are likely to stay back, and which workers are supposed to laid off and paid off. It could be a little slow, but it is better to get things right than rush things wrongly," he stated.
Police handling herdsmen breach in Uwheru
Concerning reports that herdsmen had taken over three communities in the state, he said: "There was this headline in Channels and I think it was over exaggerated. When the Assistant Inspector General, AIG,    in charge of Zone 5  came, I had to raise that issue because I was fresh from a town hall meeting in Ughelli where we were actually told by the Uwheru community    that the problem has been lingering on there about herdsmen destroying their crops"
"  So, the Uwheru community is a ward, but it has several small villages and I am told that in three of the smaller villages, the herdsmen had actually taken over their bush, not where they live and that they are insisting, according to the President General, that they can come into the bush,but    they must pay money and I had to raise it because it was a worrying situation, because that is the first time I had heard about that.
"I know that some work is being done, the Commissioner of Police briefed me as to what they want to do. In fact,    he had discussed with the Inspector General of Police on the matter, some decisions has been taken, which I cannot publicly tell you because it will not be right to let out what plans are being put in place by the police, but obviously, we are working hard to address that situation," he said.
Delta/Edo boundary dispute
According to him,  "The boundary dispute between Abraka and Edo community  is something that has been on, and we are still waiting for the Boundary Commission and I hope that soon, they will be able to give a date. We are prepared as a state for the purpose of boundary delineation, but they have not been able to give a date and I heard that two previous dates that were taken, it was not possible to start the process because it is something that is going to take several weeks when they come in. So we are working hard to get a new date for the boundary delineation.
Governor Okowa dismissed insinuation that he squandered money on the just concluded local government elections, proclaiming:'DSIEC did ask for a little over billion naira but what we did approve for that election was N700 million. And that was what they worked with apart from the two elections that had to be repeated for which they asked for N20 million bringing the total to N720 million that was spent."
He added: " I want to believe that that was very prudent spending considering the fact that the bulk of the money actually goes into the payment of staff that are engaged on ad-hoc basis.We have over 3000 units across the state, and each of the unit was manned by a polling officer and two poll clerks. That is quite a lot apart from the payment of other staff that are engaged and the security. So they were quite prudent with the elections compared to what we know is being spent in such elections. That is the situation."
Companies not paying tax because of downturn
He asserted that there was no hanky-panky on Internally Generated Revenue, IGR, in the state, stating: "The IGR varies from month to month, it is not hidden. There are some months we generate over N2 billion and some N3 billion, but on a few occasions, we have actually crossed N4 billion. We were hoping that by now, we should be able to drive the process beyond N5 billion but because of the recession, many companies are actually not able to pay. The bulk of the money comes from PAYE, many oil service companies are no longer strongly alive to pay and to employ people."
"And for some of them which are paying, they are no longer paying the allowances, the huge allowances that enable the PAYE to rise, it is no longer so. For instance, the least we get from Chevron Nigeria Limited, CNL,    in the past was over N1.5 billion,    but it has dropped to as low as N700 million. Shell that used to pay about N1 billion monthly has left Delta state.    So for the skeletal services they provide, the highest we now get from Shell    is about N82 million.