By Abdulwahab Abdulah
Young Lawyers in the country have been challenged to maximally utilize information technology, IT, tools to enhance their legal work in line with 21st century legal practice.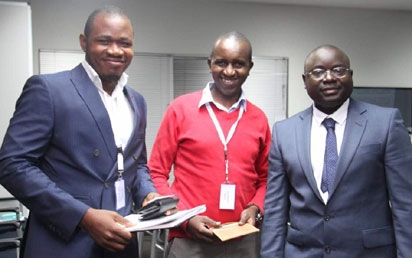 Specifically, the young wigs in the Nigerian Bar Association, NBA, were called upon
to 'take social media, as a critical tool to position themselves for the legal practice.
The Managing Solicitor, TRIAX solicitors, a firm of legal practitioners, Moses Oruaze Dickson gave this advice while delivering a lecture at Young Lawyers Forum's one-day seminar held at the Faculty of Law, Niger Delta University, Yenagoa, Bayelsa State.
The seminar theme: "Young Lawyers: the Future of The Bar and Legal Profession"
Dickson focused on how technology and social media can be used to enhance the legal practice said, that young lawyers need to tap into the power of technology for branding and market positioning.
According to him, You have to learn how to use social media to position yourself as a legal professional. You cannot practice law in the 21st century without having an online presence or a website as a law firm.
"As a lawyer, you can make yourself marketable within the confine of the rules of professional conduct," he stated.
He also informed the young lawyers of the plans of TRIAX Solicitors to collaborate with the Nigeria Institute of Advanced Legal Studies (NIALS), the Chartered Institute of Taxation of Nigeria and other partners, to organize training programmes that would improve the skills and expertise of young lawyers in Bayelsa state and the south –south region.
The Chairman of Bayelsa branch of the NBA, Clement .S. Bruruboyefe in his welcome address admonished young lawyers to respect the ethics and rules of practice while investing in constant learning.
He pointed out that the number of graduating law students surpasses the employment quota, adding that the seminar would afford young lawyers with the requisite information and knowledge needed to be marketable.
Also speaking at the event, the Attorney General and Commissioner for Justice, Bayelsa State, Kemeasuode Wodu encouraged young lawyers to be diligent in their practice while also improving themselves academically.
In his thank-you message, the Chairman of the Young Lawyers Forum; Bayelsa state chapter; Harcourt Ekpe thanked the Managing Solicitor; TRIAX Solicitors, Barrister Moses Oruaze Dickson for the support and encouragement of young lawyers in the state.
He also appreciated all the other speakers, who shared from their wealths of experience during the seminar.
Subscribe for latest Videos