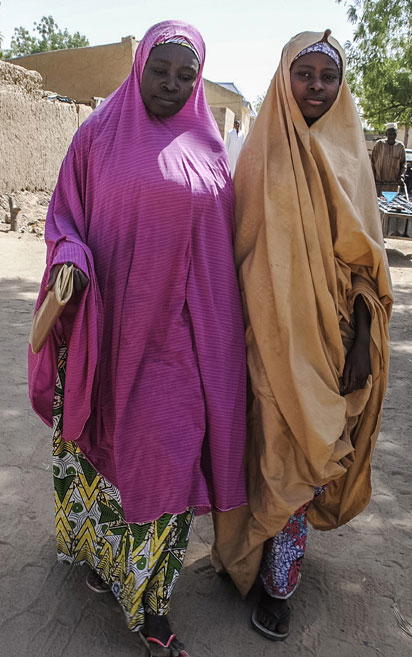 A girl released by Boko Haram walks with her mother in Dapchi on March 21, 2018 after Boko Haram Islamists who kidnapped 110 schoolgirls just over a month ago have so far returned 101 of the students to the town, the government said. Information Minister said the girls were released "unconditionally". "No money changed hands," he told reporters in the capital, Abuja. / AFP PHOTO
•Why we stoned gov– resident
YOBE—A year two senior student of the Government Girls Science Technical College, Dapchi, has said she will not return to the school, even after Boko Haram returned nearly all 110 students kidnapped from the school.
Rakiya Adamu, SS2, who was among the lucky few that escaped on February 19, when dozens of her friends and schoolmates were kidnapped, said: "I will not go back to Dapchi again."
Although Rakiya had a lucky escape when the terrorists struck, she shared her horrific experience in the current edition of The Interview magazine.
"We were in school waiting for the Magrib prayer when we started hearing gunshots. We started running with our teachers, looking for where to hide. We ran and ran and jumped the fence. We became tired and ran into a nearby village where we asked for help…,'' she said.
Rakiya described how the terrorists arrived and entrapped them, saying  "they wore army uniforms and were begging us to come. They said, 'Come to us, we will help you!"
The MD/Editor-In-Chief of The Interview, Mr. Azu Ishiekwene, described the story as "one that would prick the conscience, even if one had eaten the head of a tortoise."
In a series of interviews conducted before and after the girls were released, the magazine spoke with parents, including the chairman of the parents of the abducted girls, Malam Bashir Manzo; the Dapchi youth leader, security men, and residents of the town, especially those living close to the school.
Manzo, chairman of the abducted girls' parents, said he knew something bad was going to happen on February 19:
"I felt somehow throughout the day. I knew something bad was going to happen to me. But I prayed to God to protect me from evil and other bad things," he said.
As it turned out, her daughter, Fatima, was abducted as she went to fetch water to break her fast that evening.
Another parent, AbdullahiKawi, and father of kidnapped JSS2 student, Aisha, said the most traumatic part of the kidnap saga was the misinformation given the parents by Yobe State governor, Ibrahim Gaidam.
The father of five – one boy and four girls – said:  "People like me stoned the governor's convoy because he lied to us when he knew how terrible we were feeling. I'll never regret stoning him."
After the return of the girls, the parents have been divided on whether or not they would return their children to the school, despite assurances by the government that the school was now safe.