By Emmanuel Elebeke
ABUJA– The Revenue Mobilization Allocation and Fiscal Commission has clarified its position on the salaries and allowances payable to Senators of the Federal Republic of Nigeria, an issue that continues to occupy the front burner of national discourse especially amongst public affairs commentators, civil society and the media.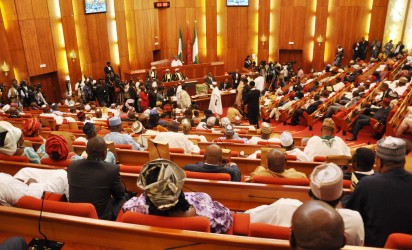 In a press statement on Wednesday signed by Mr. Ibrahim Mohammed, RMAFC's Spokesperson, the Commission pointed out that the clarification has become imperative in view of the recent revelation by Mr. Shehu Sani, a Senator of the Federal Republic, who was reported to have disclosed to the public that each Senator collects monthly running cost of N13.5m in addition to the monthly salary of N750,000.00 prescribed by the "Certain Political, Public and Judicial Office Holders(Salaries and Allowances, etc.) Amendments) Act, 2008".
According to the statement, the Law on Salaries and Allowances of Public Office Holders is very clear and as such, it is only the management of the National Assembly Service Commission that can explain the N13.5m running cost allegedly being enjoyed by each Senator as the Act only covers Salary and Allowances but not Running Cost.
"A closer look at the monthly entitlement of Senators reveals that each Senator collects salary and allowances of the sum of N1,063,860:00, consisting of the following basic-N168,866:70, motor vehicle fuelling and maintenance allowance N126,650:00, Personal Assistant N42,216:66, Domestic Staff-126,650:00, Entertainment-N50,660:00,Utilities-N50,660:00,Newspapers/Periodicals-N25,330:00,Wardrobe-N42,216,66:00, House Maintenance-N8,443.33:00 and Constituency-N422,166:66 respectively."
"It is instructive to note that some allowances are regular while others are non-regular. Regular allowances are paid regularly with Basic Salaries while Non-Regular allowances are paid as at when due. For instance, Furniture allowance (N6,079,200:00); and Severance Gratuity (N6,079,200:00) are paid once in every tenure, while Motor Vehicle Loan-(N8,105,600:00) is optional which the beneficiary has to offset before leaving office", insisting that the payment of Running Cost is not part of RMAFC mandate, therefore only the NASS can explain it.
The Statement adds that auditing does not fall within the purview of the Commission, stating that any other payments enjoyed by senators and other public office holders outside those provided in the Remuneration Act of 2008 is illegal and alien to the Commission.
'' RMAFC also wishes to use this opportunity to state that any other payments enjoyed by any political, or public office holders outside those provided in the Remuneration Act of 2008 is not known to the Commission and the Chief Accounting Officer of the Agencies concerned should explain it.
''To avoid misinformation and misrepresentation of facts capable of misleading citizens and members of the International Community, the Commission considers it most appropriate and necessary to request Nigerians and any other interested party to avail themselves of the opportunity to access the actual details of the present Remuneration package for Political, Public and Judicial Office holders in Nigeria published on its website: www.rmafc.gov.ng,'' it further explained.