•Laud Ambode for peace in Lagos
Religious bodies, including the Nigeria Inter-Religious Council (NIREC) across the 20 local governments and 37 Local Council Development Areas in Lagos State, have expressed support  for the revised 2018 Land Used Charge, while affirming that Ambode demonstrated that "he is a governor who always listens and respects the wishes of the people".
They also urged him to  sustain the peaceful co-existence and harmonious relations among the diverse groups and faiths in the state.
Speaking at the well-attended meeting of religious leaders and organizations at Adeyemi Bero Auditorium , Alausa, Ikeja, Dr. Tajudeen Yusuf, a Senior Lecturer at the University of Lagos, and  Chief Imam University of Lagos Mosque and the Co-Chairman (NIREC-Muslim), noted that Lagosians must thank Almighty Allah for having Mr. Akinwunmi Ambode as Governor, who always "works hard and tirelessly for the good of Lagosians". He said the 2018 Revised Land Use Charge Law was fair  as it reflects the wishes of the people. He stressed that no religious crisis has ever been recorded in Lagos, adding, the "State is under a man with the fear of God and love for his people".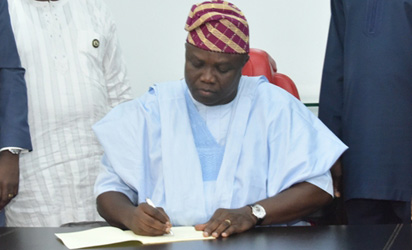 He appealed to Lagosians to continue to pray and work for peace of the state, urging Muslims and Christians to consolidate their level of cooperation and collaboration in the state to enhance peace and avoid anything which could threaten the harmony of their various communities.
In the same vein, Apostle Alexander Bamgbola, the President of the Christian Association of Nigeria (CAN) and the Co-Chairman, Nigerian Inter-Religious Council (NIREC) Lagos Chapter, said  under Governor Ambode, who "wholeheartedly supports measures that promote peace," Lagos has never had it this good, and it had been prospering mostly because of this high level of peace and religious harmony in the state. Ambode, he said "deserves our support, we endorse him for a second term," and "as critical stakeholders we must make the necessary sacrifice to persevere in promoting peace and have the power to nip divisive issues in the bud".
The Secretary of CAN in Lagos, Pastor Israel Akin Adewo, popularly called "Baba Aladura" expressed appreciation for the noble roles which the Honourable Commissioner, Hon. Dr. AbdulHakeem AbdulLateef, "has been playing in support of Governor Ambode's administration."
Dr. Ashiru in her remarks said that "Lagos is the only state whose chapter of NIREC is functional at the state and local government levels" and this shows the commitment of the Governor to sustainable peace. She therefore called on women to do more in their capacity and move the state forward even from their home fronts. She recalled that from the way which Governor Ambode reacted positively to the issue of Land Use Charge, one could say in no uncertain terms that "we have a listening governor in Lagos."