By Elizabeth Uwandu
THE Principal, Queen's College, QC, Yaba, Dr. Bola Are, has expressed delight over the return of normalcy in the school after last year's diarrhoea outbreak that claimed three lives while several other students were hospitalised. Recall that QC was forced to shut down after an epidemic caused by water contamination hit the school.
Meanwhile, Mrs. Susan Itulua, mother of the late Bithia, a JSS 3 student who was among those that lost their lives, said she felt sad that her daughter's dream of being an astronaut, and Nigeria's first  woman that would travel to the moon, was cut short by the carelessness of the Nigerian system.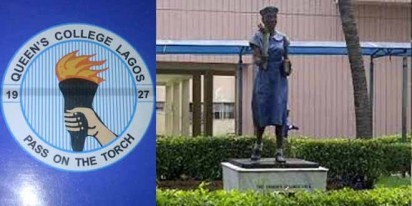 Mrs. Itulua who took to social media to commemorate the one year demise of her 12-year-old daughter, noted that despite the alleged incident that happened during the era of former QC principal, Dr. Lami Amodu and former Parents Teachers Association, PTA chairperson, Mrs Beatrice Aktumen,  the water problem was still an issue.
Her words: "My gem: Itulua Ehinomie Bithia, Born on October 8, 2004, Died: February 22, 2017. Situation: Queen's College, Yaba, water problem of January to March 2017 during the time of Dr Lami Amodu, principal, PTA chairperson, Beatrice Aktumen.
"I really miss my baby, she would have been in SS1, Science Class. I am very sure of this; that her dream, which was to be an astronaut, the first Nigerian woman that will go to the moon, was cut short by the carelessness of our system (Nigeria). Who can I hold responsible? In the United States of America, Florida where they had a similar situation in a school early this month, the government stood at attention to find a lasting solution. But in the case of Queen's College, it was swept under the carpet. Judgment is of the Lord that does not recognise your bigness or person and I await his judgment now and always," lamented Bithia's mother.
Mrs. Itulua who commended efforts of the Queen's College Old Girls Association, QCOA, chairman, Dr. Frances Ajose; present principal, Mrs B. Are, Grandma; present PTA chairman, Chief John Ofobike; her families and friends; her alma mater, University of Ibadan and the General overseer, MFM Worldwide, Dr. D.K Olukoya, AGO Administration, Pastor A. Adebambo and several others, called on QCOA to stand up to their duty by ensuring the safety of the girls at all times.