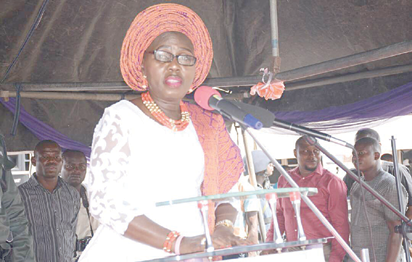 Wife of the Governor of Ondo State, Arabirin Anyanwu –Akeredolu, giving her speech during the  official launching of her initiative, Forum for Wives of Ondo State Officials, FOWOSO, in Akure, Ondo State.
By Gabriel Ewepu
THE wife of Ondo State Governor, Betty Anyanwu-Akeredolu, has urged the Nigerian Army Officers Wives Association, NAOWA, to key into democratic dividends that would benefit the barrack community.
Anyanwu-Akeredolu stated this when she received a delegation of NAOWA, 2 Division, led by the wife of the General Officer Commanding, GOC, 2 Division, Ibadan, Mrs. Chioma Azinta and the wife of the Commander, 32 Artillery Brigade, Owena Barracks, Akure, Mrs Anthonia Ataguba, at Government House, Akure, Ondo State.
In her response to some demands presented by NAOWA's leadership, she said it was imperative on the part of NAOWA to make government know about their demands with relevant and convincing information that will facilitate development in their barracks as far as they were part of the state hosting them.
She said: "There is nothing wrong with your organisation, Nigerian Army Officers Wives Association, NAOWA, letting the Ministry of Education know about the need to site a school in your barracks.
"You don't just say site a school in the barracks, get the number of children in the barracks. Most times government would like to see data. The nearest school to the barracks is this kilometers, you wouldn't want to put the lives of your children in danger, before you know it; it is captured in the next budget.
"Take your advocacy or needs to the appropriate quarters and package them well, that's my advice for you."
Meanwhile, she called on the community to make hygiene  paramount, and also to ensure good sanitation practice that would safeguard their health for high productivity and prevention against diseases.
Earlier in her speech, the wife of the GOC 2 Division, Mrs Chioma Azinta said NAOWA was in Government House to familiarise with the First Lady.
Azinta also highlighted the historical background of NAOWA, noting that the objectives  include assisting the poor and the needy and raising the standard of living in the nation's barracks. She said the association depends on government's assistance and donations from well spirited individuals and organisations to carry out its activities.
She appreciated the Akeredolu-led administration for embarking on the barracks road construction, and used the opportunity to request for a school to be sited in the barracks and for government's intervention in the welfare of windows of fallen heroes in and outside the barracks.
In her vote of thanks, the NAOWA PRO, Akure, Mrs Omosola Ayoola, expressed gratitude to Ondo State First Lady for receiving them and pledged the association's support for her programmes, especially as it concerns women empowerment.