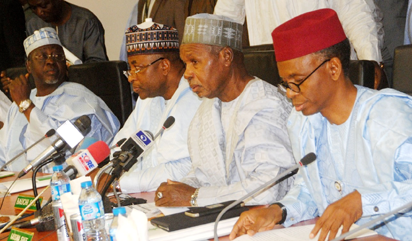 From left: Governors, Tanko Al-Makura of Nassarawa State; Gov. Mohammed Abubakar of Bauchi State; Gov. Aminu Masari of Katsina State; and Gov. Nasir El-Rufai of Kaduna State, at the meeting between the Northern Governors and Traditional Rulers in Kaduna State on Thursday (27/7/17). 03853/27/7/2017/ Suleiman Shuaibu/HB/NAN
By Ben Agande
Kaduna— In a major change of position, northern governors, yesterday, said they were not opposed to ranching of cattle as a way of checking the incessant clashes between farmers and herdsmen and also to improve the production of dairy products from animal production.
Addressing journalists at the end of the meeting of Northern Governors Forum in Kaduna, yesterday, Governor Kashim Shettima of Borno State said ranching was the surest way of enhancing the productivity of animals in the country.
According to him, while cattle in other climes produce as much as 40 litres of milk per day, cattle in the country produce only as much as one litre.
He said it was not enough to sustain the bludgeoning population in the country, especially the northern part.
He, however, said measures were being put in place by various state governments to improve the breed of cattle and the quality of milk they produce.
He said: "We discussed extensively on the issue of herdsmen and  farmers. We are elected into office to solve problems and we are going to solve this problems, by the grace of God.
"Governor Samuel Ortom is our personal friend, he is our brother, he is our partner in progress. The deputy governor of Benue State is here with us and he is fully on board and believe we are on a path to sustain peace in the north, although we are going to have hiccups, we are not deluding our selves that all is well.
"We have challenges and we know the consequences of unveiling a masquerade. We know there are people that are not interested in peace in the north, there are people that are investing heavily in sectionalizing the crisis. We know them very well, but it is not for us to join issues with anybody. It is for us to sit down and solve problem at hand because we believe in Nigeria.
"As I usually say,  I  will  rather be a small fish  in a big  pond, than being a big fish in a small pond. We believe in Nigeria, we believe in President Muhammadu Buhari."