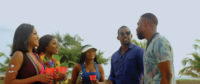 By Ayo Onikoyi
All the buzz and all the hype about the romantic comedy movie 'The Eve' are set to rise to crescendo as the movie opens in cinemas nationwide from March 30, 2018.With the synchronization of good music, beautiful pictures, extremely sexy feel and great cinematography.
The Eve is expected to not only entertain you, but leave you wondering when Nollywood would take the bull by the horn and maybe have another scintillating relationship with musicals. Of course, there is also the music, which is amazing and the score that has you hoping for some sort of official soundtrack once the credits start rolling.
Written by the trio of Tunde Babalola, Tosin Igho and Martin Adieze, and directed by Tosin Igho, The Eve tells the story of a young man, Funso, who has a bachelor's eve to go through (you read that right) but he isn't really prepared for the drama, passion and ridicule that he is eventually thrust in, that night.
Adeolu Adefarasin plays Funso and Beverly Naya who isn't a newcomer in the romcom department, plays his annoying fiancé, Yewande. Both  are in love – or so it seems – and are supposed to get married a day after their lives are visited by questions that make them reconsider the big 'I do'.