By Emeka Obasi
After decades of leadership failure there is no better time to begin the process of real development than now. It is strange that with all our human and natural resources, Nigeria continues to be led by politicians who care less about the future.
Kingsley Chiedu Moghalu, 55, a professor and former Deputy Governor of the Central Bank of Nigeria[CBN] has thrown his hat in the ring, ready to move the country to another level. Of course, even the blind see us walking in the dark, directionless.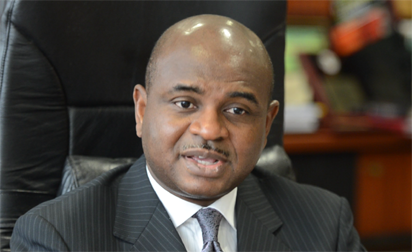 Moghalu wants to be President of Nigeria in 2019. Tall ambition, maybe. The lawyer turned political economist has very tall credentials too. Born in Lagos, trained at the University of Nigeria Nsukka, groomed in Europe and respected in the United States where he acquired a doctorate in  International Relations, his profile speaks volumes.
Moghalu is a citizen of the World. For a man who worked with the United Nations from 1992-2008 and carried out exceptional tasks in such far flung places as Cambodia, Croatia, Tanzania among many others, doing what he knows best at home will not be a difficult task.
Here is a man who  spent five years[2009-2014] as Deputy Governor of the CBN. We are not talking of an outsider. He is as much a Nigerian as an international. A huge advantage, that is.
Time has come for the experienced ones to go into politics. We cannot continue to allow artisans manage a country that should be at its peak almost six decades after independence. Our economy should be directed by those who read books and attend conferences.
Countries like Singapore, Indonesia, Malaysia and South Korea were at par with Nigeria in the 1960s. Today, they have gone so far ahead that while terms like 'Asian Tigers' are frequently used to qualify some of them, what identifies us is head cutting and oil theft.
We do have 'Tigers' in Nigeria who can move us higher. After all, before the Asian Tigers emerged, we had a world boxing champion called Dick Tiger. There are still future champions in our midst. Moghalu is one of them, based on credentials. More are all over the globe, they must be encouraged to join politics now.
It is unfortunate that while some countries were made great by leaders who had military background, the reverse is our lot. Our retired generals have not lived up to expectations. It is going to be difficult for Nigerians to back an ex-serviceman in the very near future.
Let us move round. Two of the greatest American Presidents, Dwight 'Ike' Eisenhower and John Kennedy[JFK] were World War Two combatants. The former, 34th President, led Allied landings in Normandy, France while the latter, 35th President, saw action with the Navy in the Pacific.
Kennedy trained as a lawyer at Havard. Lee Kuan Yew [LKY] of Singapore graduated from Cambridge as lawyer. He was only a Boys Scout but produced two children who were Generals. One of them, Lee Hsien Loong became Prime Minister in 2004.
LKY, the first Prime Minister of Singapore[1959-1990] moved his country from the Third World to the First World. We had our first Prime Minister, Tafawa Balewa in 1957. In 2018, some of our young men rush to Singapore to do drugs simply because our leaders failed to do what LKY did.
Winston Churchill finally made Sandhurst after three attempts. President Buhari did not go to Sandhurst, he passed out from Mons and became President after three failed attempts. Churchill is remembered today as one of the greatest produced by the United Kingdom.
He was Prime Minister during the Second World War years and succeeded in dragging America into it. A man who offered Brits,' blood, toil, tears and blood,' eventually led them to victory and is celebrated all over the world.
Eisaku Sato, the 39th Prime Minister of Japan, and the second longest serving Prime Minister of that country, grew the economy. A Law graduate of the Imperial University Tokyo, his ancestors were of the Samurai[military class]. His elder brother, Nobusuke Kishi, was the 37th Prime minister. Grand nephew, Shinzo Abe, is the present Prime Minister.
We have had a Chief Olusegun Obasanjo who ruled Nigeria as a soldier and politician, and his daughter served as a senator. Sato was Minister of Finance and OBJ Minister of Works. It is difficult to praise Obasanjo as much as Japanese hail their 39th Prime Minister.
Francois Mitterand, French President[1981-1995] was a World War veteran and also a lawyer. Under him there was a lot of growth in France. Jobs were created through nationalization of businesses. Vladmir Putin of Russia is a former Soviet Secret Service[KGB] Lt. Col.
All these men have become world statesmen not because they were in the military. They are renowned because they put their countries first and continue to be hero worshipped. It is a different cup of tea in Nigeria.
I give my support to Moghalu. It is not late for him now to join politics. I just hope he does not join APC and PDP. That is the easiest way to kill his career. Let him look for a different platform. None of the two major political parties will give him a presidential  ticket.
Honestly, I do not see Moghalu becoming  President in 2019. Let him plan for 2023. There are so many touts in the two big parties that joining either of them will be a big stain on his honour.
This is a wake up call. Politics has become serious business. We need men and women of honesty. People who have the experience to do things differently. Our politicians are a bunch of failures who should be kicked out by 2023. Many of them  deserve places in the motor park.
How come, we allowed village idiots, street urchins, numbskulls and assassins to lead us? We must wake up. Moghalu has come out. Let us put new wine in new wine skin.