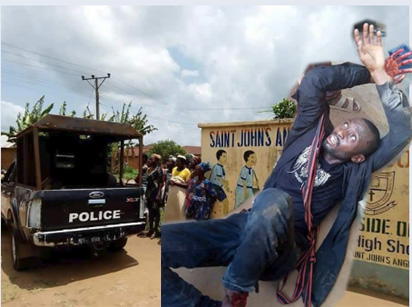 Quadri: Suspected mad teacher and Saint John's Anglican Primary School
By Daud Olatunji
IT was a black day in Agodo community, Ogun Waterside Local Government Area of Ogun State when an acclaimed former extra- mural class teacher, Lekan Quadri, suddenly turned to a killer and slaughtered two pupils.
Vanguard gathered that the mentally derailed man had been helping the pupils through extramural classes unofficially, scheduled for after school hours.
It was further gathered that some of the pupils referred to him as their 'uncle' and related with him as such.
However, the whole Agodo community, was thrown into mourning following the killing of some pupils in the school premises.
Confusion in school
The residents became very confused when it dawned on them that a suspected mentally deranged man had hacked two pupils of Saint John's Anglican Primary School, Agodo to death.
Vanguard gathered that the suspect, identified as Lekan Adebisi, reportedly stormed the school at 11:15a.m, during the lunch break.
While a version of the story had it that Lekan emerged from a nearby bush and attacked some pupils who were playing in the school field, another version had it that he was teaching them and suddenly developed  mental disorder and hacked the pupils to death.
In the ensuing melee, four-year-old male pupils, who were reportedly in kindergarten class— Mubarak Kalesowo and Sunday Obituyi— were killed.
On a visit to the area a few days after the unfortunate incident, Vanguard observed that the version of the story that said the suspect emerged from nearby bush was closer to the truth.
Some residents who spoke with Vanguard, claimed that they witnessed the incident.
They were quick to add that soon after he committed the crime, the suspect fled the scene.
Sources close to the school said the school has a perimeter fence, but did not have gates.
Vanguard, however, gathered that the school, being a local government school was not shut down as the pupils were still going to the school.
Suspect blames hunger, frustration
Meanwhile, the suspected madman has blamed his action on hunger and frustration.
The suspect, who was paraded by the state Commissioner of Police, Ahmed Iliyasu, at the state Police Command, Eleweran-Abeokuta, said he was 28 years old and earned a living by teaching children.
The suspect had killed Mubarak Kalesowo and Sunday Obituyi on Monday March 12, after he reportedly stormed the school while the pupils were on lunch break.
He thereafter fled the scene.
The suspect was apprehended by policemen attached to Ogbere Area Command led by Makinde Kayode, and some hunters.
Kalesowo told newsmen he was not yet married, noting that he used to organise lessons for children and got paid N20 for each child.
Asked why he killed the two pupils, he replied: "I did not eat for two weeks and I went out to beg for money. Nobody gave me money. When I had money, I took care of family members, friends and even outsiders.
"It was due to frustration. When hunger gripped me and it became unbearable, I then thought about my life. I asked myself what type of life am I living? Then I took a cutlass and I was prepared to face the consequence."
Ogun ASUSS chairman expresses shock
Meanwhile, the Chairman, Academic Staff Union of Secondary Schools of Nigeria, ASUSS, in Ogun State, Akeem Lasisi described it as shocking.
Lasisi in his reaction extracted from his facebook wall, titled: 'Murder of School Pupils by alleged lunatic: Need for all stakeholders to rise up', called for security to be beefed up around the schools.
Lasis said: "It is in this regard that I have decided to commiserate with the parents of these children, the people of Ogun Waterside and the entire teachers in Ogun State for this sad news."