A member of the Lagos State House of Assembly, Mr Tunde Braimoh, on Thursday told the Federal Government to tackle arms proliferation to end the worsening spate of wanton killings in Nigeria.
Braimoh, who is Chairman of the House Committee on Information, Strategy and Security, told  Newsmen in Lagos on Thursday that there was urgent need to address the issue to save lives.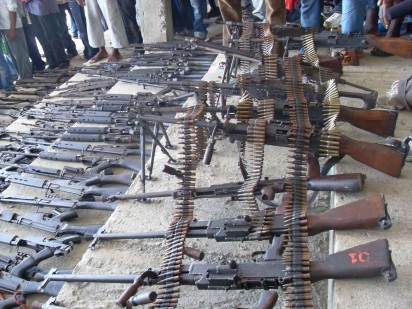 "The proliferation of arms and ammunition by any group or persons under whatever guise except under due permission by the regulatory authorities is illegal, unlawful, criminal and therefore, condemnable and unacceptable.
"Self-help by groups or individuals either pro-acting or reacting to real or imaginary threats to their lives or property is an unequivocal pointer to systemic failure.
"Government may declare amnesty and ask those in illegal possession of arms to voluntarily relinquish same within a set time.
"And after which the full weight of the law would be brought to bear on the recalcitrant and the obdurate," the lawmaker said.
Braimoh, representing Kosofe Constituency II in the assembly, said that government would have to up its ante by providing adequate security in all nooks and crannies of the country.
He also advised that the government might need to provide veritable platforms for herdsmen to form cooperatives to fund their operations themselves.
According to him, the herders may acquire ranches or colonies as they may choose at their own expense but aided by collaborations and credit.
"Security of live and properties therefore, is the most basic and preponderant function of any good government.
"Circumstance where people take to arms to protect their property or lives or mete instant judgment on suspected or even apprehended criminals, is a fundamental failure.
"If the government has capacity to deliver on its set mandate, then the people should not resort to self-help which most times is obsolete, barbaric, uncultured and anachronistic."
The lawmaker further advised government to cultivate far-flung bushes and forest reserves for agricultural, industrial or even military usage.
"Funding or endowing land and other operational support for a particular sub-sector of the economy like the herdsmen to the exclusion of others would be inequitable and repugnant to legal and natural justice.
"Security of lives and property, including protection of the herdsmen and their cattle is therefore, too rudimentary and sacred a function of government,'' he said.
Herdsmen have been unleashing deadly attacks in parts of the country resulting to loss of many lives and displacement of thousands of citizens, especially in North Central Nigeria.