…Meningitis kills eight in Katsina
By Simon Ebegbulem, Benin-City and Bashir Bello, Katsina
FIVE persons, including a first year student of Ambrose Alli University (AAU), Ekpoma, identified as Collins Ojierakhi, were feared killed by herdsmen in Ugboha, Esan South-East Local Government Area and Odiguete in  Ovia North-East Local Government Area  of Edo State.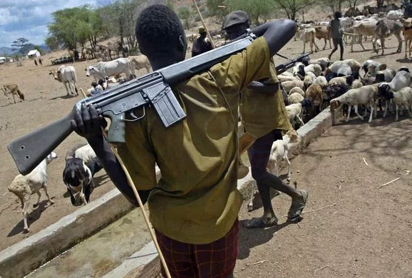 About 12 persons are said to have been hospitalized in Benin Central Hospital and other private hospitals in Benin-City, the state capital,  as a result of the attacks.
The Ugboha incident occurred on Friday evening as Collins and his friends were reportedly on their way back to the village from Uromi.
The father of the AAU student, Mr Festus Ojierakhi, told Sunday Vanguard, yesterday, ¨I am just confused. I was actually in the house eating at about 8pm and I started asking about my son who was not there. I was told he went to Uromi with his friends on motorcycle.
¨It was around 9pm that the mother of my son´s friend started crying that herdsmen had killed her son. I rushed out of the house and I asked about my own son. I was told he died too.
¨We immediately ran to the place. When we got there we were told that the police had come to take the corpses to Ubiaja mortuary. I was told my son and two others died. They said the other person that died is an Igbo person.
¨The information we heard was that as my son was returning home on Okada, the herdsmen and their cattle blocked the road and they waited for them to leave the road. Immediately they passed, some of their people in the bush opened fire on my son and his friends and they died at the spot.
¨I have been to the Area Commander's office and they said they were investigating the matter. I don´t know what to do. This is a young boy that just entered university¨.
At Odiguete community in Ovia North-East, it was learnt that herdsmen invaded the community, yesterday, community, shooting sporadically and, in the process, killed two persons.
Sunday Vanguard learnt that the community and  herdsmen had been having running battle for sometime now. However, some of the wounded persons were said to have been taken to the Benin Central Hospital yesterday while the corpses of the two victims were deposited in an undisclosed mortuary.
Edo State Police Commissioner, Johnson Kokumo, could not be reached on phone to comment on the incidents but one of his aides said the CP was in a meeting.
The Public Relations Officer of the Command, Mr Chidi Nwabuzor, who was also contacted, said he was attending an event and therefore could not comment.
Meanwhile, eight persons have been reportedly killed by meningitis in Bugaje Ward of Jibia Local Government Area of Katsina State.
Information Officer in the area, Saadu Suleiman, confirmed the deaths, yesterday.
Suleiman said the deaths of five males and three females were recorded between last Monday and Friday.
He said several others were hospitalized at the health centre in Bugaje.
"We recorded a fresh case of Cerebro-Spinal Meningitis, CSM, in Bugaje  that claimed the lives of about persons," he said.
"The outbreak was recorded between Monday and Friday. Five of them were males and three females."
The Permanent Secretary in the state Ministry of Health, Dr. Kabir Mustapha, could not be reached on phone to comment on the development.
Early this month, an outbreak was recorded in Jaja village, Gangara ward in Jibia Local Government Area of the state where seven person reportedly died and several others hospitalised.