By Emmanuel Unah
CALABAR—Nine persons, including a 10-year-old boy are lying critically ill at the General Hospital, Calabar, the Cross River State capital, with severe burns from series of kerosene explosions in parts the state capital.
Six of the victims are at the female ward, two at the male ward while one is at the Emergency Unit of the University of Calabar Teaching Hospital, UCTH.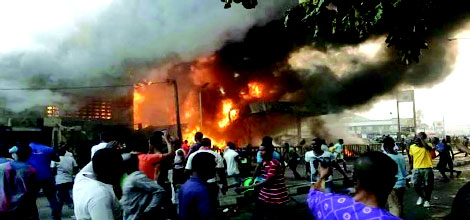 The burns, according to the victims, occurred while they were trying to refill their lamps and cooking stoves.
Emane, wife of Michael Eze, who lives at 8 Miles, narrated to Vanguard that she bought the kerosene from a filling station and had been using it until yesterday morning at about 5a.m., when her husband tried to put on the lamp in the sitting room, which resulted in the explosion.
According to her, "I used the kerosene last in February to cook beans, but at about 5a.m. on Sunday last week, the kerosene in our lamp ran out and my husband refilled it with kerosene.
"When he tried to light it again, an explosion occurred and he was caught in the fire that resulted from the explosion."
Another victim, a middle-aged lady nursing severe burns all over her body, who gave her name as Precious, said her lantern was about to go off at night and while trying to refill it, there was a sudden explosion that covered her in flames.
Her words: "I tried to put out the fire, but the more I tried the more the fire increased.
So, I shouted and people came in and dragged me out of the house. I would have burnt to ashes."
She said the kerosene was bought from a shop along the street she lives in Calabar South and that there have been other cases of explosion in the neighbourhood.
Rose, another victim with severe burns on her face, breast and belly, said she was trying to refill her stove while boiling water for the children to bath with before going to school, when the stove exploded.
She said but for the intervention of neighbours, she would have been burnt to ashes.
The elderly lady brought in from Akamkpa was still unconscious when Vanguard visited.
Mr. Donatus Ugbe, Director of the Cross River Fire Service, said the explosions were caused by adulterated kerosene.
He said: "A litre of fuel in the black market sells for N200, while kerosene sells for N250. So it is easy for people to mix the kerosene with fuel, which becomes highly combustible."