By Ikechukwu Amaechi
Abraham Lincoln, the 16th President of the U.S., in his rousing conclusion to a November 19, 1863 Gettysburg address said of democracy "… that government of the people, by the people, for the people, shall not perish from the earth."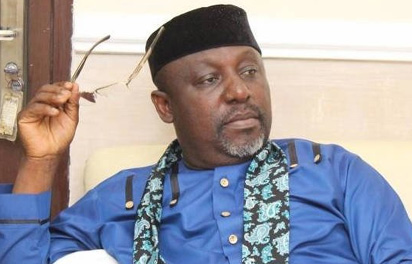 Those words have come to define what the concept is all about. Democracy is a government "of the people, by the people, and for the people."
Lincoln's characterization agrees entirely with the dictionary definition of democracy as "government by the people in which the supreme power is vested in the people and exercised directly by them or by their elected agents under a free electoral system."
Democracy is all about sovereignty of the people, consent of the governed, majority rule, minority rights, free and fair elections and due process of law. Democracy espouses servant leadership, where leaders are actually servants.
But just as in most other things, the reverse is the case here. The people quotient of Nigeria's democracy is sorely lacking. Elected officials behave in ways that would make autocrats green with envy.
We cheer our leaders when they viciously dominate the environment and subjugate the people. In our democracy, dissent is tantamount to treason.
That is why the chief executive, whether at the federal or state level, must determine who succeeds him in office willy-nilly.
The governors decide who gets what irrespective of what the people think or feel. Nigeria's democracy is an archetypal theatre of the absurd.
That is the theatrics playing out right now in Imo State. Governor Rochas Okorocha, master of absurd drama, has taken it upon himself to decide for the over five million people of Imo State who gets what in the 2019 elections. His sharing formula is informed by his self-serving interests. It is all about him. There is no consideration for the well-being of the people and welfare of the state.
Last week, Okorocha declared his interest to contest the Orlu senatorial seat in 2019 because, according to him, it would be a disservice to the nation if he failed to contest considering his "wealth of experience" as a governor for eight years.
"I have decided to run for the Imo West Senatorial zone because if I don't, bad people will take the position," Mr. Okorocha said.
There are many people who will argue that if Okorocha approximates the idea of a good man, who must go to the Senate in order to stop bad people from taking the position, then the concepts of goodness and badness need to be redefined.
Okorocha also decided that one of his minions, who serves as the commissioner for information, Nnamdi Obiaraeri, will represent Okigwe senatorial zone after he publicly said that the incumbent, Ben Uwajimogu, former Imo State House of Assembly Speaker, will not be given the party's ticket to re-contest.
He also parceled out the Owerri senatorial ticket to his deputy, Eze Madumere, while reserving the plum job for his son-in-law, Uche Nwosu.
"If Uche Nwosu will be home for governor, I will tell the deputy governor to go to the Senate," he said.
In taking these consequential decisions, not even the Imo State All Progressives Congress (APC) executive was consulted. To Okorocha, they are unimportant. His contempt for due process is legendary.
But why would Uche Nwosu succeed his father-in-law as the governor of Imo State? Okorocha says he is the person he can trust.
Addressing APC members from Owerri who visited him on February 13, Okorocha described Nwosu as an honest man who, "Whatever he tells you in the morning is what he will tell you in the evening."
"Uche Nwosu is hardworking and never gets tired. He is a very humble young man. Not proud or arrogant. So, power won't enter his head. Despite the position he occupies you can't see him quarreling with anybody or maltreating anybody.
"I have checked him in and out, I have not found him wanting … The young man is a team player, who does not use his office to molest anybody. He has the qualities of a good leader," Okorocha testified.
Sterling qualities, that is, assuming, without admitting, that Nwosu possesses them. But it does not behove the governor to foreclose the aspirations of any other APC member because in his son-in-law, he has seen a saint among villainous men. In a democracy, that ultimate decision is the prerogative of the people.
To be clear, Nwosu is qualified to run for the governorship of Imo State if he so desires. At 42 years (he was born on August 8, 1975) and a graduate (he studied Urban and Regional Planning at the Imo State University), he is constitutionally qualified to vie for any office in the country.
But it will be preposterous for Okorocha to claim that the only Imolite in whom he sees commendable leadership qualities and who can, therefore, succeed him is the husband of his first daughter, Uloma.
What is Nwosu's pedigree?
After graduation, he joined the Rochas Foundation as the personal assistant and later deputy chief of staff to the president of the charity organisation who happens to be Okorocha.
In June 2011 as governor of Imo State, Okorocha appointed Nwosu his deputy chief of staff (operations) and commissioner for lands, survey, and urban planning in April 2012. In November 2014, he was reassigned the portfolio of deputy chief of staff (administration) in addition to being a commissioner.
As commissioner for lands and survey, Nwosu married Uloma, First Daughter of Imo State, on January 5, 2013, and became Okorocha's closest ally and confidant in government (some say he is the only confidant).
In June 2015, having been re-elected, Okorocha appointed him chief of staff. As chief of staff to his father-in-law, with his sister-in-law (Okorocha's younger sister, Mrs. Ogechi Ololo, who is now the commissioner for happiness and purpose fulfillment as the deputy chief of staff, domestic affairs), Nwosu became the most powerful official in Okorocha's administration.
So, the only thing that has made Nwosu a superstar is that fortuitously he met Okorocha and has since then held on to his apron strings to climb the ladders of power in Imo. Without Okorocha, Nwosu is nobody. He has become his father-in-law's alter-ego.
This is the man Okorocha wants to foist on Imolites as governor. And he is doing that so brazenly with the people's patrimony. But that is not what Imolites want in a state with human capital glut.
Opinion is awash that Okorocha is bent on ensuring Nwosu's tenancy at Douglas House, Owerri come May 29, 2019 because he is the only man that can watch his back, knowing where all the 'dead bodies are buried.' So, his choice of a possible successor is not an altruistic act.
But that permutation is absurd and cannot fly. What is even more ludicrous is the claim that Nwosu is the only one with the requisite skill sets to govern Imo.
For too long, Okorocha has taken the good but long suffering people of Imo State for granted. The time to call his bluff has come.
If Imolites want Nwosu as their next governor, so be it. That is the beauty of democracy.
But to agree that he becomes governor solely on the whims and caprices of a father-in-law with an elephantine ego, who thinks he has conquered the state by deliberately impoverishing the people, is tantamount to rubbing insult into an already cancerous wound.
If that is allowed, Imo people will forever remain the butt of all jokes in Nigeria.