I was sold into slavery for N110,000
I saw a man sell his cousin into slavery
Oba´s curse will check traffickers'wickedness
SIMON EBEGBULEM,
BENIN CITY
Imasuen Richie was one of the youngmen who left Nigeria for Libya in 2016 with a view to finally land in Europe in search of greener pastures. But sadly, he found himself inside the Libyan prison   after he was sold as a slave. It was in that situation that he met CNN crew who came into the prison where he narrated his ordeal and that of other Nigerians in prison. Just last month, the CNN crew visited Edo state to do a report on Human Trafficking and also spoke to Richie.
Richie who is now working in a barbing saloon to make ends meet as well as assist his mother and younger ones narrated his experience in Libya to Saturday Vanguard. He also spoke about the curse placed by the Oba of Benin, Oba Ewuare 11 on human traffickers.
Excerpts:
Can you tell us why you decided to leave Nigeria in the first place?
I left Nigeria in July 2016. I was actually heading to Europe but when I got to Libya, the person I paid money to did not deliver it to the driver who took me there. So the driver had to sell us into slavery in order to recover his money. I spent eight months in that camp which was like hell. They always beat up the men who could not provide them with money while our girls were forced into prostitution. I spent about one year and six months before I came back. My mother who did not have anything had to go and borrow N200,000 which I paid before I bought myself out of slavery. So it was a sad experience.
I decided to travel because When I was growing up, It was only my mother who was taking care of me. My father was never there for us, I believe all he did was to bring me to this world. Only my Mum was doing everything and I knew that the stress was too much for her. So I thought about traveling to go and make money to help my family. Things were hard for us, it was difficult to feed or even go to school. I just felt I should leave so as to help. I never planned to return this way because I had a mission. But I am still grateful to God for making it possible for me to come back alive.
Prison experience
I was in prison before I went to the deportation camp. In the prison, I was maltreated and fed only once a day. I was in that Giran prison suffering and   I was forced to even sleep with dead bodies. I thought I was going to die there but a miracle happened. In fact, it was even a Nigerian girl who saved me. When she was set free from the prison she insisted she would leave with her husband. She claimed that I was married to her, I did not even know until they came to me and pointed at me whether I was the one and I said yes. That was how I was released. From there they took us to the deportation camp.
You said you were sold into slavery in Libya, how did it happen?
The slave business in Libya was being masterminded by our fellow Nigerians. I even saw one Nigerian man who sold his own cousin into slavery. When someone had been sold to a particular camp, that person would have to call his relations in Nigeria to send money in order to be free from slavery. In my own case, they bought me for N110,000 and they asked me to pay N200,000 to secure my release. It is a big business for Nigerians who are into it there but It is a crime against God and humanity. They are wicked people.
Did you try to cross the Mediterranean sea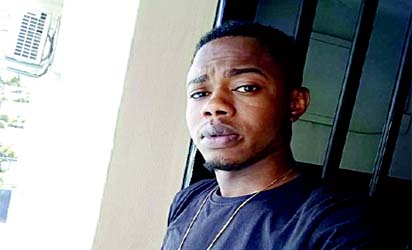 Yes I tried crossing, in fact I was in the camp near the sea before the Libyan militias stormed the place and arrested all of us. They took some of us to prison while some escaped.
What is your reaction to the curse placed on human traffickers by the Oba of Benin?
I believe that the Oba´s curse will help because I am aware that the girls always took oath before they were sponsored abroad. Almost all the girls I met in Libya told me how they took oath before they came. I am very happy with the curse because Nigerians over there were wicked to their fellow citizens. From what I have heard, the Oba´s curse will check their wickedness. But we also have some of these girls who on their own wanted to travel out to help their families. Some of them were also from poor homes and they had seen people who traveled abroad and made money through prostitution. So the idea was that instead of embarking on prostitution here in Nigeria it would be better to go abroad where more money would be made. It was not all of them who were forced to go, some voluntarily asked the traffickers   and it was only when they got there that they would see that it was not easy paying back such amount of money demanded by the women traffickers.
So what have you been doing since you came back?
I have been working at a barking salon and at the end of the day I split the money into three and give the owner of the shop two parts while I take one part. That is what I use to assist my mother and younger ones. I was 20 years old when I traveled. I want Nigerian leaders to emulate Pastor TB Joshua who has been helping most of us. I met him severally and he has been of great help to me and my family. When we went there initially with my group, he gave us N1.6 which we shared. And apart from that he still picked three of us aside and gave me additional N200,000 and   that was the money I used to clear the debt owed by my mother which she sent to me when I bought myself out of slavery in Libya.
I want to appeal to government to create jobs although it will be difficult to stop people from traveling because even if you learn a trade you will need electricity to work and it is not there. But if government can make electricity available, jobs will be created here and people will prefer to stay here than traveling out of the country. In Libya we had 24 hours power supply. If not for the crisis in Libya, I would prefer to work in Libya than working here in Nigeria. If for instance I barb for six hours in Libya I would make at least N10,000. But if I work in Nigeria for a whole day, I can never make such amount of money. Even if I make the money here it will be used to buy diesel or fuel to power the generator.
I will also like to commend Edo state government. I was trained on entrepreneurship but I am still waiting for the government to now empower us. I appeal to government to do what they promised us.
Why can't you further your education?
I wrote WAEC before I traveled but I have not collected the result. Honestly I would have loved to further my education but when I look at the situation in the family, my younger ones are there and no body is there to take care of them, so I had to sacrifice myself to assist them. If I decide to go to school now, I will be using the money I make to solve my school problem while my mother and my younger ones will be suffering.