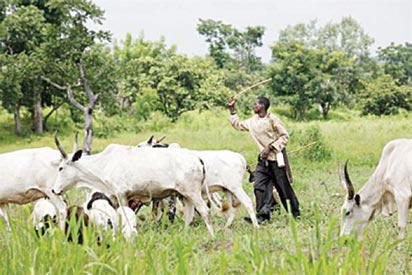 Herdsmen with their cattle
By Dennis Agbo
ENUGU—A pan-Igbo organisation, Aligbo Development Foundation, ADF, has enjoined all stakeholders in the development of Igboland to mount pressure on governors and state lawmakers of the seven Igbo-speaking states to pass into law, it's recently submitted anti- open grazing bill.
The seven Igbo-speaking states which the group submitted the proposed anti-open grazing bills are Enugu, Ebonyi, Anambra, Imo, Abia, Rivers and Delta states.
ADF national President, Prof. Uzodinma Nwala said that sequel to the submission, his group is  calling on traditional and community leaders as well as the clergy and the Church to ensure that the provisions of the proposed law are effectively implemented.
Nwala said that  his group constituted a committee that studied the anti-grazing laws of Ekiti and Benue states before it came up with the draft bill.
He noted that "the on-going war being waged by the third and fourth most deadliest terrorist organizations in the world against the people of Alaigbo and their neighbours in Nigeria currently overwhelmed by wide-spread invasion by heavily armed  herdsmen is Jihad.
"They have engaged in systematic and reckless grazing of cattle on cultivated agricultural land, destruction of crops; attacks, abduction and killings of farmers; rape of women and daughters and in many cases,  sack and displacement of  communities.
"It has been firmly established that what is afoot is a Jihad being waged by the Fulani Muslims in the guise of herdsmen. The heavily armed  herdsmen include both Fulani citizens of Nigeria and others  from other West African countries such as Niger, Ivory Coast and Cameroon."
The group further said that "the Grazing Bills which surfaced in the Nigerian national assembly since the last two years appear to be an attempt to provide legal backing to the entire operation of Muslim take-over of Nigeria.
"The anti-grazing bill is most desired in Alaigbo, hence, Alaigbo Development Foundation's, ADF, decision to partner with Consciousness Agency for Civil Leadership and Development, CACLD, to spearhead the campaign for the passage of the   anti-grazing Bill in the seven Igbo-speaking Houses of Assembly in Nigeria."
The group however said that passage of the Bill is one thing and   its enforcement another.