By Demola Akinyemi
ILORIN—A Lagos street sweeper attached to Mandilas area, Suleiman Ajenifuja, has said he found three human skulls while performing his duties.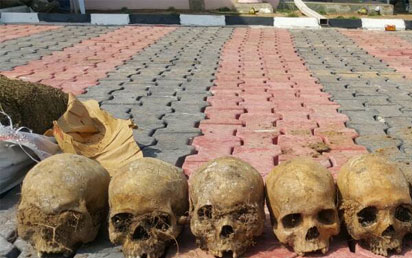 He was arrested by operatives of Kwara State Police Command in Ilorin, where he went to see a cleric that promised to make him rich, using the human skulls.
Suleiman, paraded yesterday by Kwara State Police Commissioner, Lawan Ado, with the three human skulls, was arrested by operatives on patrol along Ogbomosho-Eiyenkorin expressway when the commercial vehicle the suspect was travelling in with seven other passengers was intercepted.
Ado said when search was conducted, three skulls wrapped in a sack were recovered from a black bag belonging to one of the passengers, Ajenifuja, who admitted that he was bringing them to Ilorin for ritual purposes.
Ado said investigation was still on and that the suspect will be charged to court after.
Confession
Speaking with Vanguard, the suspect said he found the three human skulls in a black nylon bag while performing his duty as a street sweeper in Lagos, which he showed to a friend, Rasheed, who reportedly linked him to a cleric in Ilorin.
He added that after several phone chats with the said cleric, he was asked to bring the three human skulls by the cleric, who promised he would use the human skulls to make him rich from his fashion designing work.
Suleiman said he used to return to his fashion designing work whenever he was not on duty as street sweeper.
Meanwhile, the Police commissioner, Ado, also told journalists that during the 21 days ultimatum given nationwide to mop up illegal fire arms and ammunition, 32 single-barrelled, four locally-made cut-to-size single-barrelled rifles and seven locally-made single-barrelled guns were recovered.
Others are one locally-made double-barrelled pistol, three cut-to-size double-barrelled guns, one AK-47 rifle, one double-barrelled gun, one English-made pistol and one locally-made single-barrelled pistols, with two cartridges.