The US dollar dipped Tuesday against European currencies after US inflation data pointed to a moderate pace of coming interest rate rises, with fresh White House turmoil adding pressure on the greenback, dealers said.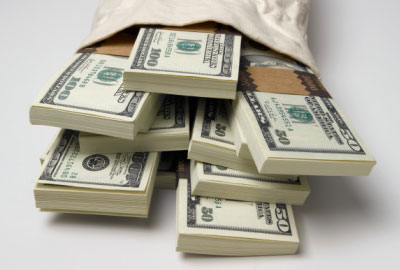 Wall Street came off to a stronger opening after the US consumer price index (CPI) rose 0.2 percent in February, just as analysts had predicted, cooling from January's sudden jump of 0.5 percent which had sent markets around the world into a tailspin.
The inflation report "exactly matched expectations, and partially reverses some of the inflation concerns caused by last month's employment and CPI report," said Marvin Loh, a markets strategist at BNY Mellon Markets.
The dollar was also impacted by US President Donald Trump's announcement that he was replacing his top diplomat Rex Tillerson ahead of announced talks with North Korea.
"The US dollar weakens further in the aftermath of the Tillerson announcement," analyst Michael Hewson at CMC Markets tweeted.
The inflation data eased volatility on Wall Street, which breathed a sigh of relief Tuesday after fears of inflation and rising rates had spooked investors in recent weeks.
The Federal Reserve is expected to raise its benchmark interest rates next week in the first of at least three hikes expected this year — but market watchers had been looking for signs the central bank could act more assertively.
The US inflation data came after a strong jobs report on Friday and Trump's decision to meet North Korean leader Kim Jong Un, both of which had helped fuel a surge in global equities at the end of last week.
But worries about Trump's move over tariffs spiked as the "America first" administration singled out Europe in a rapidly escalating war of words.
Meanwhile, Trump's decision to replace Tillerson also shook the US markets, analysts said.
– European currencies strong –
In European economic powerhouse Germany, the DAX stock market dipped slightly as the euro strengthened, weighing on exporters.
Meanwhile, the London stock market also fell back as the pound strengthened even as finance minister Philip Hammond said the British economy would grow slightly more than expected this year.
Earlier, Asian markets mostly closed higher, but investors moved cautiously as a recent global rally lost steam as trade tensions returned.
Asian markets swung in and out of positive territory through morning deals Tuesday and by the end Tokyo was up 0.7 percent.
Hong Kong ended marginally higher while Shanghai finished 0.5 percent lower.
– Key figures around 1345 GMT –
New York – Dow: UP 0.7 percent at 25,363.73
London – FTSE 100: DOWN 0.4 percent at 7,186.69 points
Frankfurt – DAX 30: DOWN 0.4 percent at 12,379.86
Paris – CAC 40: DOWN 0.3 percent at 5,276.60
EURO STOXX 50: DOWN 0.1 percent at 3,425.09
Tokyo – Nikkei 225: DOWN 0.7 percent at 21,968.10 (close)
Hong Kong – Hang Seng: FLAT at 31,601.45 (close)
Euro/dollar: UP at $1.2370 from $1.2335 at 2040 GMT
Pound/dollar: UP at $1.3964 from $1.3905
Dollar/yen: UP at 106.93 yen from 106.40 yen
Oil – Brent North Sea: FLAT at $65.71 per barrel
Oil – West Texas Intermediate: UP 15 cents at $61.31