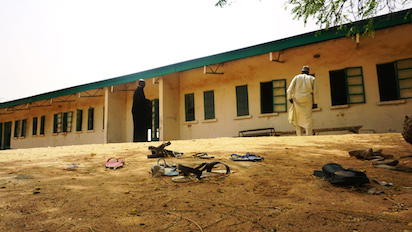 Sandals are strewn in the yard of the Government Girls Science and Technical College staff quarters in Dapchi, Nigeria, on February 22, 2018. Anger erupted in a town in remote northeast Nigeria on February 22 after officials fumbled to account for scores of schoolgirls from the college who locals say have been kidnapped by Boko Haram jihadists. Police said on February 21 that 111 girls from the college were unaccounted for following a jihadist raid late on February 19. Hours later, Abdullahi Bego, spokesman for Yobe state governor Ibrahim Gaidam, said "some of the girls" had been rescued by troops "from the terrorists who abducted them". But on a visit to Dapchi on Thursday, Gaidam appeared to question whether there had been any abduction. / AFP PHOTO /
By Haroon Ishola-Balogun
A few days ago, I saw a video of how Police responded to a distress call by a victim of armed robbery attack. From the officer who received the call to the Crime-scene investigation Officer and then to Data gathering office and so on, they were prompt and professional. Immediately, finger prints and other data were ready, and the culprits were monitored from control-room. Information gathered were transferred to criminal record office, then to all branch units including the community police, air surveillance team, dog sniffers team, outriders and horse riders officers. In less than 30 minutes, the culprits were arrested. It was a well coordinated effort, brilliant team work spirit laced with pride. That can't be in Nigeria, it was in Trinidad & Tobago.
Here, 110 girls were led into a waiting truck, overcrowded and, ferried away, and hours later, the police had no information as to where and how to locate them. This was not the first time; the Chibok episode was still fresh in the minds of Nigerians. More than 100 girls are still missing after they were abducted from their school in Chibok in 2014 by Boko Haram. Niether the police nor the Troops know where the girls are.
Although, some managed to escape, while about 100 were been freed in exchange for Boko Haram militants, in negotiations brokered by the International Committee of the Red Cross after three years in captivity. That would have been enough lessons for any government who take seriously the security of lives and property of its citizens. Here we are again, another 110 girls abducted and up till moment, there is no clue as to where to find them.
For the Buhari led administration which has been grasping at any accomplishment to sell its second term bid, the security feat it seems to be brandishing has been demistified, and consigned to the bin bag. The hymn of Boko Haram obliteration, was loud. But Nigerians refused to chorus it. Now, what we hear is that "Boko Haram has been degraded". Have they really been degraded or rather emboldened going by the latest and grisly abduction of another 110 girls in Yobe? The criminals have again humbled the security operatives by yet another successful abduction.
Sadly too, we have seen increasing violence in the form of herdsmen and farmers with casualties jumping every day. Innocent families continue to lose their loved ones, properties and estates as a result of the insecurity in the country. The security budget continues to swell every day. The other day it was $1billion to be withdrawn from the excess crude account for security with absolutely nothing to show for it. The story that Shekau narrowly escaped and was on the run has only proved to us that it is not yet over.
The prevailing narrative is a indeed a sorry one and if we cannot not change it, there is mo other word than failure. Living on tax payers money who are being kidnapped, raped, dehumanised and gruesomely murdered is only wicked failure on the part of the government.
Partnership in Saudi Arabia
Recently, custodian of the two Holy Mosques, King Salman and US President Donald Trump inaugurated the Global Center for Combating Extremist Ideology (GCCEI) in Riyadh. Trump was in Riyadh with some Muslim leaders as partner to the Global Center for Combating Extremist Ideology.
The center with the aid of technology counters and prevents the spread of extremist ideology by promoting moderation, compassion and supporting the dissemination of positive dialogue.
The center was established as a result of the international cooperation facing the extreme ideology leading to terrorism, ISIS, al-Shabaab, Boko Haram among others. It was founded by a number of countries who chose Riyadh as its headquarters in confronting extreme ideologies by monitoring and analyzing it, to confront and prevent it. The idea is that they will partner and cooperate with  governments and organizations to degrade the extremists through use of technology.
It was gathered that the center has developed innovative techniques that can monitor, process and analyze extremists' activities with high accuracy; all phases of data processing and analysis are done in no more than six seconds once the data or comments are posted on the internet, allowing unprecedented levels of facing extremist activities in the digital world.
As a result, Nigeria should see partnership with other countries in this onerous task of decimating the activities of the insurgents as imperative especially after several years of warfare with limited success. This kind of partnership will elicit new and technologically driven approaches to stop the likes of Shekau, even the so-called militant herdsmen.
Countries where this problem is prevalent should come together to develop strategies to fight this menace.
The fight against ISIS should not be for Syria and Iraq alone, just as the fight against Boko Haram and other deviants in the North should not be for Nigeria alone. The stigma of labeling Islam  'enemy of the world' should be strategically resisted by every true Muslim. This can be done not by confronting the deviants with guns and grenades  but by coming together to deflate their plans and activities through information technology.