…As 139 youths renounce cultism in Badagry
By Evelyn Usman & Esther Onyegbula
lagos—  Commissioner of Police, Lagos State Police Command, Imohimi Edgal, yesterday, described cultism as one of the biggest security challenges in the state , calling on leaders in all spheres to join hand together to phase out the menace.
Speaking at the occasion of a public renunciation of cultism by 139 youths , among them females, at the Badagry Local Government Council secretariat, Edgal lamented that cultism had not only been been introduced in primary and secondary schools but had been taken beyond the shores of the country.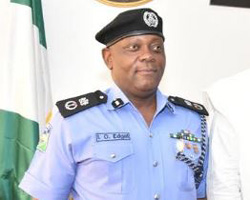 He was however, quick to add that the command was making an appreciable progress against the menace, pointing out that the occasion was part of the outcome of such strategy.
According to him: "Cultism is a big problem, intertwine with drug abuse. All over our schools now, even to the ridiculous extent of our primary schools, people are going around recruiting young boys and girls into various cult groups, this is worrisome. It means now that we have to be more vigilant and this vigilance must not be left to the Police alone. Therefore, for school authority, the entry into your schools now, must be documented.
"The problem of cultism has left our shores. If you are on social media, you will discover that young Nigerians who left the country to study or do business outside the country have formed cult groups and are busy killing themselves. For how long are we going to fold our hands as leaders, caregivers and parents, as this issue of cultism escalate?"
" Let me use this opportunity to call on other local government chairmen, religious leaders and concerned people to please as a matter of urgency , involve themselves critically in the war against cultism in their various neighborhoods. We must not allow cultism to take over our communities."
Appreciating the repentant cultists, among who were graduates , holders of the Ordinary National Diploma, OND  teachers and artisans, for taking the bold step , the CP assured that with the assistance of the local government chairman, the unemployed among them would be engaged.
He therefore, called on other local government chairmen in areas like Mushin, Oshodi, Ajegunle, Ijora Badia, Isolo and other neighborhoods to borrow a leaf from Badagry and Ikorodu , informing that the weapons surrendered by the repentant cultists would be taken to the state armory.
In his remark, executive chairman of Badagry Local Government , Hon. Onilude Adeniran , appreciated all stakeholders who played different roles to  get the former cultists see reasons to renounce their membership, even as he reiterated the secretariat's pledge to rehabilitate the youths.