By Ayo Onikoyi
One of the biggest headaches of an actress is keeping a romantic relationship as most men believe their lives are always in the open and thus susceptible to promiscuity. In fact many of them have confessed losing the love of their lives as a result of their craft.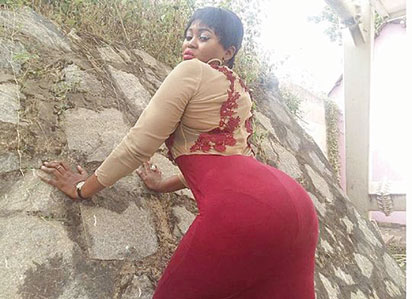 While some have accepted their fate and kept true to their calling at the expense of having a man to call their own, a few have succumbed to the pressure from their lovers and have waved the profession goodbye to have a man to return home to every night.
However, for Nollywood actress, Pat Ugwu, it is a different story. The actress who enjoys flaunting her nicely-rounded bum on Instagram confessed to Potpourri that her boyfriend encourages her to take her assets public, which she has been doing with robust aplomb.
"My boyfriend doesn't complain about my sensual pictures and videos on Instagram at all. He knows I am doing what pleases me and he loves me for it. In fact, he's the one that pushes me to go ahead with it. He knows it is all about entertainment. I am an entertainer. He's also an entertainer and he knows it is all about entertainment, she purred when asked if the man in her life doesn't complain about her raunchy pictures and videos.
"He's not scared of competition from anyone either. He knows my love is for him. We trust each other. Hey, because I flaunt my bum and twerk a lot on Instagram doesn't mean I am up for grabs, moneybags or no moneybags, I am not for sale. I have a man in my life and I am okay with that", she added when asked if her boyfriend wasn't scared of her being snatched by some randy moneybags.
Pat Ugwu, who goes by the name Pat Pat Ugwu on Instagram has loads of pictures and videos that have her twerking her God-given gift in several locations; namely; in the pool, by the pool side or just any location that gives the pictures luscious prominence.
Subscribe for latest Videos