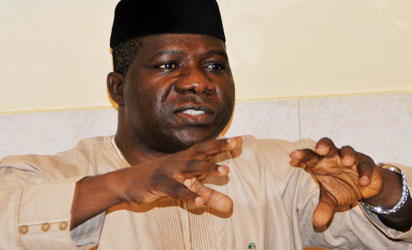 Bamidele
By Rotimi Ojomoyela
The All Progressives Congress(APC) Council of Elders, has described Opeyemi Bamidele as having the cognate experience and competence to lead Ekiti State well if elected governor during the July 14 governorship poll.
The Elders who made, said the party needs someone with that superlative qualities as its candidate to be able to wrest power from the Peoples Democratic Party(PDP).
The elders made the statement when Bamidele consulted the members of
Ekiti APC Elders' Forum in Igbara Odo, Ekiti State on Friday on his governorship ambition.
The Chairman of the forum and a retired Permanent Secretary, Chief George Akosile, said the elders reposed so much confidence in Bamidele's ability to be able to win the much-awaited election taking cognizance of his political dexterity and track records as a progressive politician.
"I have no doubt that Bamidele would offer Ekiti people credible leadership and quality governance if voted the next governor of Ekiti State.
"Opeyemi Bamidele has garnered the wealth of experience required to govern any state well and transform the lives of the people.
"He had served meritoriously as a commissioner in Lagos State. He was
a member of the then Social Democratic Party(SDP) during the third Republic politics and an ardent member of the Alliance for Democracy which later metamorphosed to Action Congress of Nigeria and now APC.
"As a Congressman representing the good people of Ado/Irepodun- Ifelodun Federal Constituency in the 7th National Assembly, he sponsored many life transforming bills and motions and also
facilitated several constituency projects to the delights of his constituents.
"We are sure Bamidele would bring rapid infrastructural development and economic prosperity to Ekiti State if elected the next governor of Ekiti State".
They urged Bamidele to intensify his campaign efforts to get the party governorship ticket, imploring him to ensure that he embraces all his co- contestants if he emerged as APC gubernatorial candidate.
Bamidele, a former member of the House of Representatives and governorship aspirants in the party, said he decided to seek audience with the leaders, because
many of them were renowned disciples of the late sage, Chief Obafemi Awolowo, the leader of Yoruba race.
"I hold you in high esteem, because many of you were with Awolowo during the Unity Party of Nigeria (UPN) era of 1979. You have experiences and were also privy to how the late political legend transformed the southwest using cocoa money .
"I need your advice to be able to get the ticket, win the election and be a good governor. I know you can't be despised as whoever does that do it at his own peril", he said.
Bamidele said he was determined to bring radical development to Ekiti in the areas of commercial farming, free and compulsory education up to secondary school, free health care for minors and pregnant women, running of all-inclusive government, improvement of infrastructural facilities, among others", he said.