I don't really think the proposed punishment will see the light of the day. Another thing we need to ask is: who determines hate speech? Can hate speech against an individual and against government be punishable by hanging? I think the National Assembly, NASS, is trying to limit hate speeches during 2019 electioneering campaign.
Scott Abeh, Graduate and Photographer.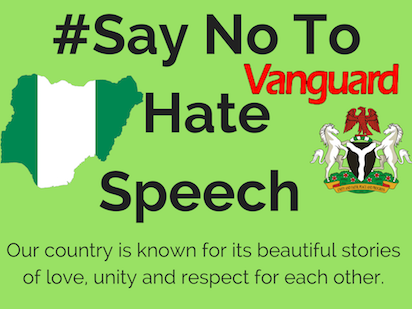 The National Assembly, NASS, cannot pass such obnoxious law on hate speech because many Nigerians may not be innocent. Why would they consider death sentence as punishment for hate speech?. NASS is even wrong to have thought of it in the first place. Lawmakers should think of better things that will benefit the people.
Okolosi Newyear, Politician
Having such law against hate speech is against the laws of international bodies like the United Nations, African Union, ECOWAS, Human Rights Charter and even the Nigerian constitution. It would amount to an abuse of human dignity if the law is passed. It is against the citizens of this country. It is advisable for the NASS to abandon the bill because it won't work.
Akatakpo FranK, Clergy
It is a shame and a reflection of how low the country has descended. We have allowed political office holders to get away with anything for too long. The time has come for us to take charge of our destiny. What can the current government lay claim to since coming to power?
Daniel Oto, Worker.
Public officials are only trying to protect themselves with the law. It is obvious that the proposed law intends to muzzle the opposition.
Those sponsoring the bill are aware of the dangers it would unleash in Nigeria. In fact, hate speech has been part of our system because Nigerians are known for speaking out in the face of oppression.
Henrietta Ogboru, Business Woman.
They are just trying to silence us so that we will not talk about the wrong things going on in the country. The NASS should go ahead and pass the bill. I have not seen where a government will put its people in a terrible condition. They have been trying to deprive us of our right to free speech as guaranteed by the constitution. We did not elect them for that purpose. Let the federal government define what is hate speech.
Rejoice Omadudu, Consultant
By Bose Adelaja, Bartholomew Madukwe & Frederick Okopie