ENUGU—THERE was excitement in Enugu on Wednesday as Gov. Ifeanyi Ugwuanyi formally handed over N5 million cheque each to 118 autonomous communities that have so far fulfilled the requirements for the release of the fund, as the first tranche of the N10 million earmarked for every community in the state to execute one development project of their choice.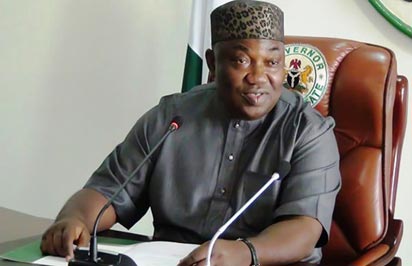 The 118 autonomous communities that received their cheques, according to the Commissioner for Rural Development, Hon. Gab Onuzulike, were among the 450 communities approved by the Enugu State Executive Council, EXCO that have opened accounts with designated banks. He added that the remaining communities will receive theirs as soon as they open bank accounts and send the details to the Ministry of Chieftaincy Matters/Rural Development.
Gov. Ugwuanyi, while presenting the cheques to the traditional rulers and the presidents-general of town unions in the communities stated that the decision was in line with his administration's resolve to empower each autonomous community in the state with the sum of N10 million    to carry out projects that would address their "peculiar and immediate development needs."
The governor added that the government decided that the choice of the projects and their execution were left "entirely" to the discretion and at the disposal of the stakeholders of each individual community.
He said: "This was in fulfillment of our promise to promote participatory democracy and extensive rural development in the state as well as the involvement of all local communities in the implementation of government policies and programmes".