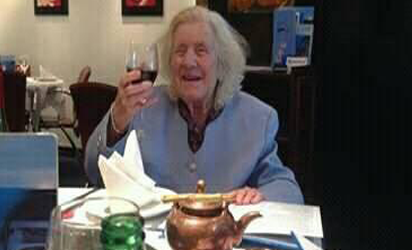 Vera Oshowole
By Donu Kogbara
MRS. Vera Oshowole died peacefully in her sleep at home in London on January 25, at the grand old age of 92. Her distinguished husband, the late Lt. Colonel (Dr.) Olatunde Oshowole, was a friend of my late father, Ignatius Kogbara. Here is a touching tribute to Vera, sent to me by her daughter, Judi Oshowole, who now lives in Spain but was once based in Lagos where she wrote Window On My Mind – a column that appeared weekly in Sunday Punch newspaper.
Vera was born on September 7, 1925 in Newton Le Willows, outside Liverpool in the north of England, to George, a chemist, and Hilda Willey. She was the youngest of five sisters, all now deceased.  As a child, she was encouraged to read and developed a life-long passion for acquiring knowledge. She was head girl at Newton Le Willows Grammar School and got a B.Sc in Sociology at the London School of Economics in 1947 where she studied under Professor Harold Laski, a one time Chairman of the British Labour Party.
Vera joined the British Civil Service and developed a love of politically liberal newspapers, cryptic crosswords and Scrabble. In 1950, she married Dr. Tunde Oshowole, who studied medicine at the University of Heidelberg in Germany. When he was offered a job as the personal physician to President Tubman of Liberia, Vera insisted that if they were going to go to Africa, they should go to his own country; and the family travelled to Nigeria in March 1959 on the Elder Dempster ship, MV Apapa.
The 10-day journey was significant because most of their fellow passengers – including the then Emir of Kano and Brigadier Samuel Ademulegun – were excitedly returning home to prepare for independence from colonial rule.
Vera spent most of her adult life in Nigeria, made a great impact on all who met her and formed very close relationships with her husband's relatives. She first lived in Ibadan where she became a librarian at the university while her husband worked at the University College Hospital and Western Region Memorial Hospital.
When the British left after Independence in 1960, her husband became one of the first doctors to join the new Nigerian Army and was posted first to Kaduna, then to Yaba Military Hospitals. Vera often reminisced about travelling to these postings by train with her three children – me and my brothers, Richard and David. While there were still some British officers in the Nigerian Army at that stage, there were few British wives, so Vera quickly made friends with the wives of the Nigerian officers and enjoyed learning from them.
Her husband became Commanding Officer of the Military Hospital in Kaduna in 1965 and Vera embraced a new role of being accessible to soldiers under his command…and took a particular interest in improving the welfare of junior soldiers and their families. In Kaduna, Vera worked as a librarian at the British Council Library, ran a small nursery school and later taught at the United Christian School in Apapa, Lagos.
She also worked as practice secretary in Drs. Hummel White and Partners, one of the first medical practices in Lagos, which her husband joined after his honourable retirement from the Nigerian Army in 1972. She managed this practice after the death of her husband in 1997.
Her selfless love and care for others and bravery was demonstrated in Kaduna on the morning of January 15, 1966. Despite the pain and horror of knowing that one group of officers had just shot another group of officers, some of whom were personal friends, she took a military Land rover, collected the children whose parents had been shot, brought them to her house and relocated them to a place of safety in a convent.
She recounted later that it had been quite an experience going to houses where officers had been slain and asking the guards to allow her to take away the children, many of whom had been left in the houses with the bodies of their dead parents. She was a long-term resident of Apapa (1966 till 2000), where she lived in Park Lane, Marine Road and Hinderer Road. She and my father were active members of the Apapa Boat Club, as well as members of the Apapa and Ikoyi Clubs.
When her two sons attended the Apapa Corona School in Park Lane, Vera opened her house to and provided squash and sandwiches for children whose parents couldn't leave work to collect them at school closing time. She was active in many organisations such as Nigerwives, an association set up to integrate and assist foreign spouses of Nigerian men. She was the first Vice-President of Nigerwives and took a leading role in the successful campaign for foreign wives to be granted permanent residence permits and legal rights.
My mother made tape recordings of school textbooks for blind students, supporting one throughout his studies and enabling him to attend university. During the civil war, she took in an Igbo student from United Christian School and helped him complete his studies. Vera and her husband had a strong attachment to the beaches of Lagos. In the 1960s, they would drive from Ibadan to go to Bar Beach on Sundays and when they were living in Lagos, they booked one of the Army Officers' chalets at Tarkwa Bay nearly every weekend, to escape the bustle of the city.
My parents met many people from every walk of life and were part of Nigeria during defining moments of its history. My mother's warmth, simple demeanor and deep belief in equality for all, won her the trust and hearts of many. The messages her family has received since her death – from those who were fortunate enough to know her – attest to the help and understanding that she provided and the difference she made to so many lives.
Vera was an ideal person with whom to share and discuss personal difficulties and problems. She was always a non-judgmental listener and always found the time to provide advice that helped people solve their problems.
Her home was always welcoming to all. A well spent and deeply rich life. She is survived by her three children, Judi, Richard and David, three grandchildren, Tola, Tsakissa and Xongisa and two great grandchildren, Sade and Anya. May she rest in peace.
Responses to: [email protected] or to 0802 747 6458 OR 0811 675 9752 (texts only). PLEASE KINDLY NOTE THAT UNLESS YOU REQUEST ANONYMITY, YOUR COMMENTS MAY BE PUBLISHED, WITH YOUR NAMES AND CONTACT DETAILS ATTACHED.