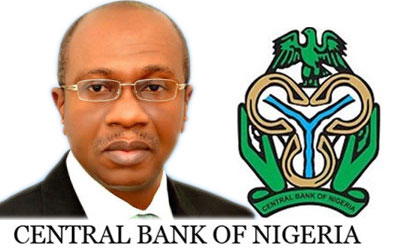 CBN Governor, Mr Godwin Emefiele
By Obadiah Mailafia
I LOVE bankers. I have been one of them. When you meet them at a party they are usually well-dressed, svelte and urbane. They are invariably quick with numbers — witty and courtly in manners.  But they can also be cut-throat and rather mean-spirited, with an uncanny ability to smell money a thousand km away.
It is perhaps for this reason that someone once described a banker, rather uncharitably, as "a friend who will borrow you an umbrella when it is not raining; and will ask for it back when it starts to rain".
All considered, banking is an honourable profession. Bankers play an invaluable role in the economy; pooling savings from those who have excess disposable income and on-lending to those who need to borrow — firms, government and households. They  provide intermediary services to all manner of economic actors while their expertise assists business firms in investing scarce resources to achieve optimal outcomes. They are the scaffolding of the capitalist economy. It used to be the dream of every Harvard Business School graduate to work for investment bankers Goldman Sachs. The best of them are normally absorbed by the private equity houses.
I taught business school in London before joining the African Development Bank. I was later recalled home to work for the Central Bank of Nigeria, CBN. I not only know the theory, I had opportunity to see things from both sides – from both the practical banking side and that of the regulatory authorities. As a regulator, I was one of those caught in the maelstrom of the banking reforms circa 2005-2007. I had a taste of the good, the bad and the ugly sides of banking. I learned an important lesson: where Mammon and power are commingled, there you are likely to find the Man with the Cloven Hoof.
Alas, gone are the days when bankers were among the most trusted professionals you could ever meet. In days gone by, your banker was one of the people you had no reason not to trust, alongside your priest-father-confessor, lawyer, accountant and doctor. These days, unfortunately, you would be well-advised to treat them with a grain of salt, most of all the banker.
The consolidation exercise of more than a decade ago exposed an under-belly of the banking sector that was worse than we ever suspected. We discovered that a good number were cowboys and knaves. Others were outright robber barons who fat on customers' deposits. They bought jet planes and palatial homes in London, America and Dubai. From the subprime crisis that swept through Wall Street in the autumn of 2008, we now know it's not just a Nigerian problem. Despite the glamour, Wall Street has been a den of iniquity, with Bernard Madoff sitting atop the greasy pole, with the theft of a staggering US$64.8 billion of investor funds.
I am happy to report that some sanity is gradually returning to the banking industry in Nigeria. The kind of bare-faced robbery that used to take place is now, happily, a thing of the past, thanks to closer supervision by CBN and sister financial regulatory institutions.
However, one ugly side that refuses to go away  is the problem of extortionate charges by Shylock bankers. In October last year, the Customers Protection Department of the CBN revealed that some N50 billion of excessive charges were recovered from the commercial banks over a period of 3 three years. This amounts to some N16.6 billion annually. And it is only a tip of the ice-berg, given that many depositors stoically refuse to make a claim.
Towards year's end last year we witnessed the showdown between GTB and the managing director of Innoson Motors, Innocent Ifediaso Chukwuma, over alleged excessive charges on a N2.4 billion credit facility he received from the bank. The dispute became more dramatic when Mr. Chukwuma was detained by the EFCC.
The drama deteriorated into the stuff of tribal politics, as many people of Igbo extraction urged their kith and kin to withdraw all their deposits from GTB, alleging discrimination and persecution of Chukwuma only because he is an Igbo businessman. The whole saga was unfortunate, as GTB is certainly among the better run banks in the country, with their principals not known for ethnic chauvinism whatsoever. What matters is the fact that a controversy regarding high bank charges could  deteriorate to the level of such disruptive ethnic politics.
The trust deficit in the banking industry is so acute that I know of several multinational corporations that have employed  full-time staff to keep watch over their bank accounts.  We are told that the Consumer Protection Department of the CBN is being inundated by more 200,000 official complaints annually. Clearly, the problem is becoming an epidemic.
Several factors explain this sorry state of affairs.
First, the economic recession and several policies have had a negative impact on commercial bank deposits over the last couple of years, forcing the banks to scrounge on remaining depositors for whatever it's worth. According to a document from the CBN, between April 2015 and April 2016, the total deposits of bank customers with the Deposit Money Banks dropped by 5.6 percent, amounting to N1.03 trillion; from N18.54 trillion to N17.51 trillion.
Several banks experienced drastic falls in deposits, the highest being Skye Bank, with -21 percent; followed  Diamond Bank with -17.4 percent ; Fidelity Bank -6.1 percent; and FCCMB with -4.6 percent. Only three of the major banks did not experience negative growth in deposits. Access Bank saw a growth of +15.7 percent while GTB and Zenith banks both had 0.0 percent growth.
While we welcome the introduction of the BVN as a sound and prudent initiative that will bring greater transparency into the system, it had the pernicious impact of driving down customer deposits in the banking system. There is also the so-called "cashless" policy which led market women and small traders to keep their earnings under their mattresses instead of taking them to the banks. Another element is the low interest rates accruable to depositors, many of whom have decided to place their funds either in dollar domiciliary accounts  or in high-yielding FGN bonds and CBN Treasury bills.
It's evident that intra-industry ethical standards  as spearheaded by the Bankers' Committee are not being enforced as they ought to. Poor regulatory oversight on the part of CBN and other financial regulators is yet another factor, in addition to weak leadership, poor managements and ill-trained staff, on the part of the deposit money banks.
Going forward, we need bold policy initiatives to redeem our banking system. I regard myself as a friend of the banking sector. I wish to see them prosper and  flourish. Good and profitable banks are good for the economy and good for our country. But we need banks that are run on the basis of excellence, professionalism and high ethical standards. I see the commercial banks of Canada, Switzerland, Singapore, Britain and New Zealand as models worthy of emulation. There is no banking system that does not have its fair share of challenges. But the banks of those countries are highly professional institutions that ferociously guard their reputation and strenuously commit to global best practices.  We can learn from them. Nothing but the best is good enough for Nigeria.