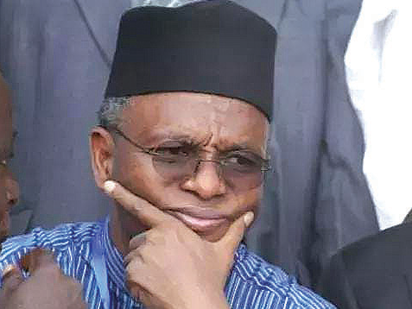 Kaduna state Governor, Nasir el-Rufai
By Festus Ahon
ASABA—APC Grassroots Advocates, a youth group within the All Progressives Congress, APC,  has warned the President Muhammadu Buhari-led Federal Government not to implement recommendations of the Governor Nasir el-Rufai- led ad-hoc committee on restructuring unless some gray areas were expunged.
The group, in a statement by its National Coordinator, Nnamdi Ofonye, said they were totally against two of the recommendations of the committee but were in support of the call for states to control their resources.
Noting that they were against the creation of state police and the scrapping of local government councils, Ofonye expressed worry about the effect the scrapping of the local government system will have on the grassroots.
He said that what was needed was to strengthen the local government for better performance "and give it unfettered autonomy to operate," adding that "the worst thing that will happen to us as a people is the creation of a state police.
"Imagine what our governors are doing with Commissioners of Police in their domains and then wonder what they will do if the power to hire and fire is vested in them. Also look at what they are doing with state electoral commissions and imagine what they will do to an opposition party and individuals with the police in their hands.
"We have taken time to reach out to our people at the grassroots and these are their stands. We are aware that the committee might have done their job without considering the feelings of the majority of Nigerians who are at the grassroots hence we moved in to enlighten and sensitise them on the call for restructuring and their wishes must be considered."