By Chioma Gabriel
MY friend, an American Nigerian came home from Texas to contest election in his state in southeast Nigeria. He is someone who uses the social media a lot to express his feelings about Nigeria and Nigerians. He never fails to comment on serious things happening around Nigeria.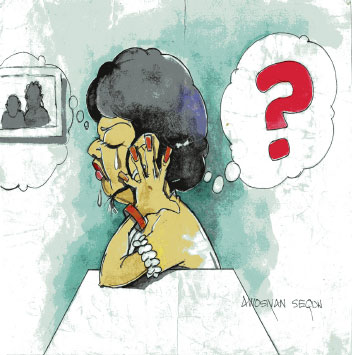 But sometimes, I feel these Nigerians who live overseas especially the professionals among them have attitude problems.
Many years ago, my friend acquired a state-of-the art property somewhere in Victoria Garden City ,VGC . Nobody lives in that edifice except when he comes home once in a while. Throughout the great flood that swept through the Island last year, he was overseas. But when he came home for campaigns, he realised a great misfortune had befallen him.
His VGC house which is in waterfront submerged during the flood and destroyed things. I had once advised him to keep somebody in the house to avoid any surprise but he didn't take the advice. To him ,every Nigerian, young or old, male or female is a fraudster.
He not was far from the truth but then, people take risks.
His house in VGC is no longer a place of comfort for him currently. The properties he left inside the house were destroyed. The last time we spoke, he was thinking of selling the VGC property and relocating to the mainland. Perhaps, if somebody was living in the house, the situation would not have deteriorated to the level it did.
I have also read his commentaries on APC and Buhari as if Buhari is the biggest problem facing Nigeria. Many commentators on social media imply same. Nigerians are just using the bad economy as excuse to perpetrate all manner of evil and are blaming it on Buhari's purported poor governance.
Some cases being handled by the Economic and Financial Crimes Commission, EFCC, have nothing to do with APC or Buhari. These were cases of fraud perpetrated by Nigerians from different fields of life prior to this time.
People are perpetrating evil in Nigeria and blaming it on the economy. The petrol marketer who is hoarding pms or who adjusted his fuel pomp downward is not working for Buhari. The man next door who is into obtaining by trick, that is 419 is not working for APC. The greedy landlord who increased the rent pf a house he built 20 years ago because the price of building materials have just gone up is not in government.
The market man or woman who arbitrarily increases the price of commodities for flimsy reasons is not in government. People who cheat others in business and other transactions thinking they are smart are not in government. These are opportunists who let their selfishness dominate their conscience.
Since the Americana came back and has returned to his village mobilizing for election, he has been running more commentaries on Nigeria and Nigerians. Recently, he has started complaining that people beg a lot in Nigeria. His account officers in the bank are begging. Those he meets in shops and supermarkets are also begging. Almost everyone in his village is begging. Those that are employed are begging. Those that are not are also begging. Everywhere he goes in Nigeria, the people are begging. And he asks, what is going on?
For someone who has been critical of Buhari's government, he didn't blame him for the begging. He felt Nigerians are blind, that money practically litters the streets but Nigerians are too blind to see it. He didn't empathize with the workers who are not earning salaries especially in his state where the government is notorious for owing pensions and salaries.
One of the responses he got on the 'begging' commentary he posted said he should thank God he was dealing with beggars and not robbers. He was also advised that some of the beggars could turn violent and become robbers. Another commentator advised him to help those he considered genuine beggars and leave the rest.
Agreed, the average Nigerian is a crook. People like to cheat others and could go to any length to do that. The issue of the upsurge of corruption is troubling. And the damages it has done to the polity are astronomical. In fact, the major factor obstructing Nigeria's path towards sustainable development is corruption. Nigeria is troubled in many ways. There is decline in public morality. Unemployment and poverty reign supreme. Lawlessness has become the order of the day as a result of a failed system. Corruption has many faces in Nigeria: embezzlement, misappropriation, kickbacks or what have you. Just name it, Nigeria has it.
At the individual level, haven't you noticed how many times your blood brother has robbed you of opportunities or stolen out rightly from you? What about businesses?