…Says Mafia groups in Italy and Nigeria involved in human trafficking
…Explains how Oshiomhole laid solid foundation for development in Edo
By Simon Ebegbulem
He is just a workaholic like his predecessor, Comrade Adams Oshiomhole. Getting this interview from him was not easy.
Governor Godwin Obaseki of Edo State prioritises state issues above any issue; but when Sunday Vanguard and some foreign journalists were able to track him, he bared his mind and experiences on several issues, particularly the troubling migrant/human  trafficking  crisis in the state.
He insists that President Muhammadu Buhari cannot fix in three years, what the PDP destroyed in sixteen years.  Excerpts:
After one year and two months  in office, how has it been?
If you'd asked me four years ago if I will be in politics, I wouldn't have believed it is possible. I had come to assist four years ago, when former governor Adams Oshiomhole was here. Especially from the economic planning aspect and institutional building, respectively, and that gave me an opportunity to learn.
I was able to understand the nature of government, what is required to be able to fix problems. Honestly, I was not knowledgeable about politics until I made a decision to run and I had to go through the political torture of seeking nomination and campaigning for elections. It was a great experience.
In terms of governance, I really did not appreciate the level of poverty before. May be some of us were privileged but on the whole people were fairly self-sufficient. I can't remember any of my classmates going to bed hungry a night.
The level of poverty growing was not that obvious; then we were a bit agrarian. But coming to serve as governor, it hit me how poor people have become and how that has translated into a lot of social dislocation and infrastructural decay, just because government could not do what is expected of it.
So, that was what struck me, I just could not understand why things went so bad. But upon further examination I realized that it is really an issue of leadership and my predecessor in office, Comrade Oshiomhole, proved it.
Before Oshiomhole came into power, we did not have a dualized road in this town, all the roads you drive through now never existed before he came. There were no street lights before. Unfortunately the economy had become so distorted and import dependent, there was no production going on, everybody was trading. No wonder our young boys and girls decided to go abroad for greener pastures.
So what were the first things you did to tackle that?
For us the first thing we did was accepting that there was a problem.
But even in our political debates and conversations, everybody pretended about it. Again you have to understand the economics of migration, they are people who support their families at home from proceeds they get over there, so most politicians don't want to talk about it because they know there will be a back clash.   Illegal migration has taken a new dimension. It was not just about the girls going to Europe, it has become more serious, so many people were getting involved, so many people were losing their lives and as a government we have a responsibility to deal with it.
So, that acceptance that they was a crisis led us to all other things we did, like setting up a Task Force to deal with the situation. That was why we domesticated the national laws and made it stiffer and that task force began to develop more responses to the entire spectrum of the problem.
First how do you deal with the returnees, how do you resettle them, how do you reintegrate them? From reports the task force has done very well, you can verify the progresses of the task force.
The other issue was that yes we knew there was a problem but we did not realize how large the problem was and we never expected that the repatriations was going to involve a large number very quickly. So we were not really prepared financially for that but we are coping.
Though we have been stretched and that is why we are reaching out to the Federal Government and donor partners this month, February, to see how we can get resources to deal with the size of the problem. And the way we see it, first thing is advocacy, trying to make them see the hazards and the risk associated with being trafficked. So we put up a team that is always at the airports, any time we have an Edo team back home we welcome them, transport them back to Benin, run a medical check on them, counsel them, give them stipends and put them in skill programmes to help them rebuild self confidence and open up opportunities for them for jobs.
We are beginning to expand the dialogue with the Federal Government and I am sure that the Federal Government, like the local authority, did not appreciate the extent of the size of the problem until the international media exposed it. I have discussed it with our President, who himself as a father is touched by the situation. He is one man that feels disturbed with situations like this and killings and he is doing something too to help the situation.
We learnt that a strong cartel and some confraternities are involved in this trafficking?
It was not in my conscience, I did not appreciate it until we went to Rome, where we had a session with the Italian parliament and the security forces, and in their briefing they narrated how the Nigerian confraternities got involved, that there is actually a Nigerian mafia that runs the trade in collaboration with the Italian mafia.
For us as a government, it is just to focus on law and order and strengthen the institutions such as the police, the judiciary, the prison system, just to ensure that these institutions work. So, we don't single out any special group for special action. Just strengthen the institution and people will respect themselves.
And to do this, we started to upgrade the courts by rebuilding and expanding the courts. We had situations in this town where some persons felt they were above the law, that they were powerful. But we had to remind them of the rule of law and that laws are meant to be obeyed.
My  predecessor started the process of dismantling the strongholds of strong men.
Before now few people in the PDP were in charge, they just allocate the resources to themselves. But when Oshiomhole came in, he started dismantling these people, we call them the god fathers. For me the foundation has already been laid and that was what influenced my decision to get into politics. We replaced those strongholds with institutions which is the background that I come from.
Improved voting system and development
The voting system has been aided by technology   our democracy is maturing.   Before now our democracy had its imperfection, the voting system, but that changed radically with technology. Today it is much more difficult to manipulate elections. Even if you are going to do that, you need human beings to go and vote. You just cannot conjure figures like it used to be in the past. Our electoral laws have been amended to strengthen the electoral process.
What we found in my election – like I said I had a gruelling campaign because we had to ensure that the bad guys don't come back to power and set Edo backward – a lot of people were convinced that Oshiomhole did a lot of work while in office and that work needed to continue.
Whereas I had a lot of opposition from the political class, a lot of people who believed in the achievement of Oshiomhole went out to vote and for me that was quite instructive. As a governor, if you work and improve the lives of the people, they will see that their lives have improved, they will support you in office. And I can tell you today that we have improved upon what my predecessor did, we are building roads, improving our infrastructures, we are building one of the biggest industrial parks in this country if not in Africa.
We have the Gelegele seaport project which will create jobs and accelerate economic activities in this state and the South South. It has not been easy but we are focused on what we want to achieve as a party. I am aware that the opposition PDP keeps talking, dishing out lies to members of the public and boasting that in 2019, it will come back.
Let them be talking while we are working. And in 2019 both here in Edo and Nigeria, APC's performance will give us victory. Our people are wiser now, they can no longer be fooled. You see this same people blaming President Buhari forget that for sixteen years PDP was in power but never saved for the nation when crude was sold for between $100/1400 per barrel.
They led this country for sixteen good years without any meaningful development and you are blaming a government that is barely three years in power, that is crazy. President Buhari is sincere in curbing corruption, insecurity and revamping the economy and we must all give him the desired support to achieve those goals.
What is it that the PDP left in Aso Rock that its members are dreaming of going back to take. It cannot work, we have passed that stage. Things may be tough but with the way the President is tackling the issues, we will come out of it.
You cannot fix sixteen years' problem in just three years, it is not possible. In Edo today we have no PDP, all we have are political jobbers who go out to collect money and call press conferences where they say all sorts of rubbish against the government. These same guys destroyed all we stand for as a state until God used Oshiomhole to rescue us. We are moving forward and we can never go backward.
But it seems the issue of cultism is so prevalent in Edo, how are you dealing with that?
For me, what we have done is to start with rebuilding basic education. Begin to look at the curriculum, improve the physical environment where these students learn, clean up the basic education system, give them access to technology and that freezes their mind. The first thing we did was to take charge of the schools, so they will know that somebody is incharge. Then we strengthened the Ministry of Education and trained educational administrators and putting in place the right incentives for them.
But whatever happens in the schools is a reflection of the larger society. If you cannot get away with misbehaviour at the political level then it is difficult for it to happen in the school system.
So my hope is to get a lot more transparency into our schools, deal with the fundamental problem about who pays because if government cannot pay, why not open it up and allow people who can pay go there. If your family is paying a huge sum of money for your education let's see how you will go there and spend time in cultism rather than the investment your parents are making on you.
That will be wasting the money and you will be in trouble in the family.     Part of the problem we are having now is that some teachers seem not to know what to do, they don't publish, they don't teach, they encourage malpractices, sexual harassment from the top. We want proprietors to conform with international best practices if I must keep them. I won't tolerate these immoralities.
Initially our children went into schools, they did not pay for anything, they wanted free education. But I said now what we should do is that they should pay something because those of them who go abroad for education understand that they have to get value for what is being invested in them. So we are beginning to change that mind-set that university education cannot be free.
You are not the typical politician but a technocrat, how has it been coping with political matters?
I am trying to explain to people, that yes I have powers as a governor but those powers must be tempered, I am not an imperial monarch. For instance in the last primaries of the APC for our local government election, some people came and said please make me chairman but I said please I cannot make you chairman, it is the people that will make you chairman.
Oshiomhole ended the politics of godfatherism and we cannot behave like the godfathers. So we don't impose people, the people decide who their leaders should be, that is our policy. Infact in Oredo my brother contested as chairman and people expected me to support him.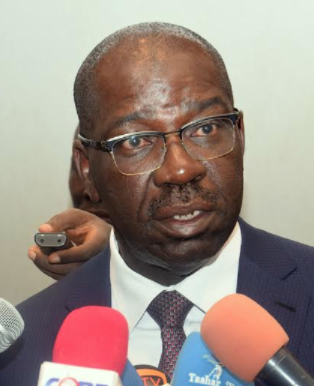 But I felt morally it is not right, other governors may do it but I cannot. I felt it is not morally right because we are both from the same ward and local government. So it has not been easy, but our political leaders in the APC understand me better now   and they know we must continue to deliver on our promises to the people and not get distracted by politics.
Our people now understand that good deeds, developmental progress, stable polity, sound economic foundation and development are the things that make for progress and not  godfathers.
We understood there was an outbreak of Lassa fever in some parts of the state, what is the situation now?
Everything is under control now. It was a bit worrisome in the beginning but it is now under control; it is not Ebola. We had issues with that in some parts of Edo State; we had to approve some money to buy equipment and drugs in the hospital to support the doctors. You know the Irrua hospital is a federal hospital and a referral center for lassa fever in Nigeria.
We saw that some things were lacking in the hospital and we had to assist because our people are involved. We have patients from Ebonyi, Kano, Kogi and many other states there but of course the staff there are mainly from Edo state and that is the danger. So we had to get drugs, power generating sets and other equipment needed to check the spread of the disease.