By Emma Una
CALABAR—THE Songhai faming model in which organic fertilizer is used in the cultivation of crops  and vegetables has been adopted  by the Federal Government in its Integrated Farming Scheme to boost food production in Akwa Ibom  and Cross River States.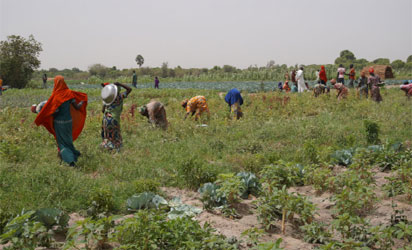 Managing Director of Cross River Basin Development Authority, Mr Bassey Nkposong, who stated this, Monday,  while addressing the chiefs of Onna Local Government Area, revealed that  the Integrated Farming Scheme is to revive agricultural production through the use of cost effective means to boost food production in the country  and it  involves a collaboration between the communities and the government.
"We are not buying off the land from you but partnering you to add value to your land by  upgrading the soil  quality with organic  manure  and also teach you the technique which is easy to adopt," Nkposong told the  community leaders
He said the Federal Government was keen to introduce agriculture as the viable alternative to  oil and will  use the 100 hectres of land donated by the communities in the area to  boost agricultural activity and create  employment for the youths.