By Chioma Gabriel
My paternal grandfather was a traditionalist to the core. He took the highest traditional title in Igboland and fought in two successful communal wars after which my town annexed the two communities, having sacked their inhabitants. The warriors from my town took away their women and married their daughters.
My grandfather had the traditional ' ichi ' marks on his face that depicted his bravery. I always imagined his gangly frame with the white ozo thread on his ankle. He held sway in my village at the time Christianity was still spreading in Igboland.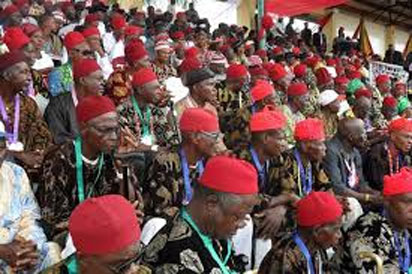 We, his grandchildren were told of how he brought to my town, Christian missionaries who were rejected in a neighbouring community. He took them to the king of the town who located them near the village square.
A big masquerade group used to operate from our house. It was one of the songs by the masquerade group that drew my attention to what turned out to be happening today in the country. The song talked about a man, Afuecheta who killed a cow for destroying his cassava farm. So, I began to ask a question, do herdsmen use to operate in my village for a man to have killed a cow that destroyed his farm? And the answer was yes. But not Fulani herdsmen.
My community in the southeast used to allow rearing of cattle in the olden days. Families were allowed to rear cattle just like goats and chicken but the destructive effect of cattle on peoples farms made the man Afuecheta to take revenge by killing the cow that destroyed his cassava farm.
The herdsmen and the farmers in my village were pitched against each other that eventually, a decisive move was made. Keep your cattle from roaming all over the village and into peoples farms or forget cattle rearing. Eventually, the herdsmen lost the battle.
You don't use your business to spoil another man's business. The herdsmen of my village and the farmers were both businessmen and both should invest in their business. You don't look for free land or other people farm to graze your cattle. You buy your grazing land.
And coming to the Nigerian question, we need to be truthful to each other and call a spade by name. We know what to do when we want to get serious about tackling the issues of herdsmen. Thankfully, the federal government is waking up to the issue. You don't take what belongs to a state by force.
The federal government said it will not dictate to states on land use. According to Vice President Yemi Osinbajo, "No one is giving land to anyone, as is being falsely alleged. Instead, it is our view that States that are willing and which have set aside land for development should cooperate with willing investors in commercially viable, government-supported ranches or livestock production centres for commercial use."
I think that is it! Businessmen should invest in their business. I also hope these herders pay tax to state governments.
And let me ask, shouldn't herdsmen do their business peacefully with communities that allowed them without killing, kidnapping, raping or maiming anyone? I know some Fulani in core Igbo communities who are into various businesses but are not causing trouble. Go to any cow market in the southeast, in fact from the head bridge Onitsha, any cow dealer, chicken or goat seller from the far north doing business there speak Igbo and relate well with the indigenes. Call anyone selling suya and he will speak Igbo just like you even though he's Fulani. They live peacefully with the people and in some cases, intermarry. Have we all forgotten that?
My uncle's wife, mama Ngozi, a Fulani from Katsina State is still there. With her eight grown up children and 13 grandchildren, she is fully our wife. She cannot go back home now and she speaks Igbo just like me. Ngozi is married to a man from Katsina and her name has changed. But she is still my cousin and whenever she visits, she is still the same Ngozi we know.
If we have been living together, why begin to fight now?
Why are herdsmen trying to tear Nigeria apart?
Herdsmen have wasted so many lives in Nigeria over the last 16years especially in the Plateau and Benue axis mostly over revenge killing of their cattle by angry local farmers. Why are peoples sources of livelihood being destroyed by cattle?
The social media is replete with this menace: herdsmen and their cattle moving majestically on highways, in government houses, in classrooms, pedestrian flyover or what have you. Why?
Go to the south south , southeast and southwest. Everywhere you look, you find them. Their menace cuts across every part of the country.
Now, a country like Ghana would not tolerate that and we know the implication. Nigeria would likely welcome them with open arms. Government negligence has contributed to the menace but now that the federal government is saying yes to state police, let it be for real. We can also add community policing so as to bring to an end, these perennial crises between herdsmen and farmers all over Nigerian communities?
If we say yes to state police, we should also do same to community policing.
In many communities in Igboland like mine, you cannot steal even a chicken. In my community back home, your whole family is doomed if you have a child of questionable character. The community police will deal not only with the bad boy but the entire family if they refuse to produce him for punishment. We should stop so much turenchi and get serious.
Alors, dans quelle direction le Nigeria? (So, which way Nigeria?)