By Sola Ogundipe
Do you have a condom? No I don't. Ah! please, I don't want to have sex if you're not protected. It does not matter. Yes,it does, you never know what could happen." A couple of teenagers were overheard having this conversation. They were aged roughly 16-18 years and obviously sexually active.
In recent years Sexually Transmitted Infections (STIs) as well as unwanted and unplanned pregnancies have been topical in Nigeria. The issue of HIV/AIDS is in a class of its own.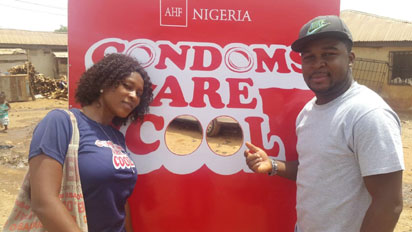 Nigeria has the second HIV prevalence in Africa after South Africa.  Recent surveys highlighted that attitudes towards condom use is helping the spread STIs and research suggests that nearly a quarter of Nigerian sex workers have HIV.
Though HIV/AIDS prevalence rate in Nigeria is on the decline, youths and young adults in Nigeria are particularly vulnerable with the young women at higher risk than young men.
While HIV/AIDS prevalence rate in Nigeria generally continues to decline, the same cannot be said for young people, the 15-19 age bracket  prevalence rate is yet to reverse. It is here that the role of condom use among youths as a preventive method is significant.
What do you know or do not know about condoms?  Why is it necessary to teach safe sex through condom use? Why is it necessary to teach safe sex through condom use? The answer is because condoms are an essential and serious part of sexual health and safe sex.
Condomology, or the study of condoms, is necessary in order to ensure that people have fact-based information that is clear and understandable. Condoms are a fashion and are always in style, but they're prone to failure, breaking, and misuse. Most people know how to put them on and use them correctly, but if they don't, trouble can follow. Condoms do break as often as incorrectly used.
However, talk and use of condom is often taboo because of cultural barriers. For instance, women often cannot  negotiate sex because they have no control over making their sex partners wear condoms. Women are not even expected to carry condoms and  cannot even suggest its use to their sex partners.
On Friday, 13th February, 2018, about 300,000 condoms will be freely distributed while at least 43, 000 people will be screened for HIV in commemoration of this year's International Condom Day (ICD) themed: "Always in Fashion!"
International Condom Day seeks to promote the use of condoms as a means of preventing unwanted pregnancies and sexually transmitted infections (STIs. Condoms are used during sexual intercourse as a contraceptive or as protection against STIs.
In Abuja, Anambra, Benue, Cross River, Kogi and Nasarawa States, AIDS Healthcare Foundation  (AHF), Nigeria, shall conduct both static and mobile HIV testing as well as hold public ceremonies to provide condom education while free HIV brands of condoms shall be distributed to encourage safer sexual practices.
Generally, HIV/STI prevention, safer sex and condom usage will be  the focus in the six Nigerian states and in over 50 "Always in Fashion" events that will be held in 39 countries around the world.
The ICD is aimed at highlighting the importance of condom use in conjunction with Valentine's Day —by promoting prevention of STDs, including HIV and unwanted pregnancies through free condom distribution, safer sex awareness events and HIV Testing Services (HTS).
The big push actually began through the initial HIV/AIDS scare of the 1980s. Condoms date back as far as the 15th Century but with the AIDS epidemic came the need to really reinforce just how important condom use was.
Among activities for the day are static and mobile HIV testing and public ceremonies to provide condom education while free condoms are distributed to encourage safer sexual practices.
The trend of early sexual debut  in Nigeria, according to UNICEF data, begins at less than 15 years for 15 percent of Nigeria's youth.
This, coupled with the practice of having multiple sexual partners increases HIV vulnerability among the youth population alongside the very low HIV testing rates— only 17 percent of young people know their HIV status (UNAIDS 2017 Data Book). Whereas Nigeria accounts for almost half of all new HIV infections in sub-Saharan Africa every year according to
UNAIDS.
In the view of AHF Acting Country Programme  Manager, Mr. Greg Abiaziem, it is important to reduce the trend of new HIV infection in Nigerian youth through preaching abstinence, and for those who cannot abstain to use condom, which prevents STIs including HIV and unwanted pregnancies.
"It has become important to ensure condom option is made available as a preventive measure to youths who can't abstain from sex, with new HIV infections highest among young people aged 15-24 years and with the national data suggesting that about 4.2 percent of young people (ages 15-24) are living with HIV," Abiaziem noted.
"Condoms are under attack in the realm of global public health with governments and international agencies slashing funds," said AHF chief of Global Policy, Advocacy & Marketing Terri Ford. "This will most likely lead to more infections worldwide—but thankfully, International Condom Day is a way to reinvigorate the message that condoms are a fun and fashionable way to protect oneself and one's partner while reinforcing the tenet that condoms should be available for free to anyone who needs them."
The 2018 ICD presents another opportunity to reach Nigerians with vital HIV services while empowering individuals to safeguard their health.
AIDS Healthcare Foundation (AHF), the largest global AIDS organization, currently provides medical care and/or services to over 855,000 clients in 39 countries worldwide in the US, Africa, Latin America/Caribbean, the Asia/Pacific Region and Eastern Europe.
The goal is to promote condom use and educate people about the importance of practising safe sex. It is linked to Valentine's Day because studies show that during this period, condom sales are very high compared to the other days of the year. The ICD is a timely reminder for people to always practice safe sex by using a condom during sexual activity not just to protect themselves but their partners as well.
Apart from abstinence, use of latex and polyurethane condoms are the only available method to prevent transmission of STIs and HIV. Of all the birth control methods available, condom is the most frequently used method because it is convenient and has a high contraceptive rate with 98 percent effectiveness rate for male condoms and 95 percent for female condoms, but only when used correctly and consistently.
Studies indicate that students who are sexually active often use the condom as their form of contraception. About two out of three students believe that condom is the most effective contraceptive method that also protects against STIs. The problem is that condoms are not always available and majority of students are embarrassed about buying them.
It is fact that people are more likely to use condoms if they are available during sexual encounters. Thus, it is also important to become more comfortable with purchasing and carrying condoms aside from using them.
The primary purpose is to promote the use of condoms and educate people in regards to the need for practising safe sex at all times. The aim is to get more people comfortable with purchasing, carrying, talking about and using condoms during sexual activity.
It is also for promoting healthy and safe relationships and reminding people about the risks of sexually transmitted infections and unplanned pregnancies as well. The day is a reminder to always practice safe sex.