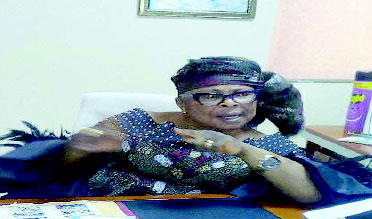 …Defends Lagos state Yoruba policy
By Morenike Taire, Funmi Ajumobi and Ebun Sessou
Hon. Omotayo Oduntan-Oyeledun is the Deputy Chief Whip, Lagos State House of Assembly representing Alimosho constituency 11. The three-term member of the Lagos Assembly spoke with Weekend Woman in her Alausa offices when the group paid her a courtesy visit. In this interview, she speaks on why women are not actively involved in politics, her life as a legislator and what legacy she would like to leave behind.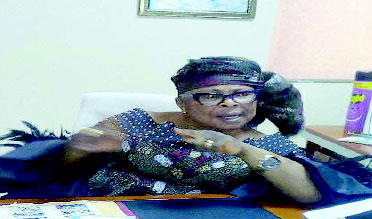 2019 is an election year and many people are worried that women are not as involved in politics as they ought to be, what would you say?
In fact, it is something that calls for concern because women are not coming out the way people would have expected. And, I do not think there is anyone hindering women from contesting elections. Those of us who are either in elective or appointive positions should be careful so as to be a mirror or yardstick that people would use to measure the performances of women in positions which would eventually give room for parties to involve more women.
Either financial constraints or the violence associated with politics are the reasons why women shy away from politics but that is another discussion. But, politics like every other business is a risk that anyone who is interested in, should be ready to take. It is either you win or fail and when you fail, you have to try again and again until, you get it right. Nothing should deter you from trying especially if it is what you are interested and serious about.
But, do the opportunities really exist. Are there enough opportunities for women?
I do not understand what you mean by opportunities. You have to first believe in yourself. Believe in your capability, enlist the support of your home either your husband or children, and then go out there to tell people your intention. At the initial stage, people would be skeptical, they do not know how serious you are, they do not know you from anywhere. It is like the teething period. But, once you overcome the teething period, the sky is the limit.
Those of us who are here have been through ups and downs. We have seen so many dark things but we do not allow that to deter us. We do not think of gender rather we put gender aside when you want to go into politics. Tell the men we are here and we are here to stay. And if people know you are really serious, they will believe in you.
Are there women you have empowered to come into politics?
In my local government, we go out there to give lectures, let them see you, educate them, tell them the challenges they might likely face when they go into politics. But, the problem women have generally is the financial constraints. The women do not have the financial muscle to compete with men. These men have been out there for long.
They have the wherewithal to go into politics. But, the women would think of the children, home and even their husband. A woman who has N100 would rather think of how to put food on the table for their children before thinking of using the leftover for other things.
When I first joined politics, I was the vice chairman of the entire Alimosho constituency and at the end of the month, we had to look for money to pay our staff, rent chairs and my family thought I was crazy. They felt I was spending all my money on things that were not necessary while my mates were buying land, building houses among others. I was not deterred rather, I was focused since I knew where I was going and what I wanted. And those are some of the problems women face.
Does god-fatherism or god-motherism exist in politics?
I think it does in some cases because being into politics at the initial stage, you will definitely meet some people there and you cannot jump over them. So, you have to curry their support and favour. I think that is what people refer to as godfatherism.
What has politics taken away from you?
It has actually made me to be more patient. When we were younger, we wouldn't want to be insulted. But, these days, I try to be more tolerant.  I prefer to meet people at their level.  So many lessons, but all in all they are lessons that have made me who I am today. They have toughened me. I have learnt not to brood over any problem rather to look on the brighter side of life.
What were you doing before becoming a politician?
I was a teacher and a proprietress of a school. After winning an election into the Lagos State House of Assembly, I still continued but after some time, I couldn't monitor the school, so the standard was falling and I wouldn't want the standard to fall so, I decided to shut down the school. And the fact that I have passion to take care of children, I have decided that when I cease to be a lawmaker, I would go back to my school.
I noticed that, womenfolk do not support women during elections and that was seen in the last election. The only woman who came out as presidential candidate got a few votes from men. What is your take?
The only woman you are referring to is exceptional. People do not actually know her, neither do they know her pedigree or antecedent. But if she had been out there doing great before coming into politics, that would have been a plus for her.
But, at the lower level, I agree with you that at the initial stage, women do not come out to support other women but things are really changing now. When professor Jadesola Akande was alive, she had an NGO which we used as a platform to educate women. I was there with them to educate women on why they need to support other women during election.
Obviously, you were quite comfortable before coming into politics, what was the attraction?
The attraction was Chief Aminu Kano. We were next door neighbours in Kano and I saw the passion the man had for his people and the development of his community. I felt, this was how things should be. And I promised that if I am able to come into politics, I would emulate Chief Aminu Kano.
So, if you have not come into politics, you wouldn't impact positively in your constituency?
I could have. At least, when I had a school, I was able to train some children in my area. It was a rural area and they do not believe in girl-child education. But, I was able to impact into the lives of the children. Give them free education. Today, most of them are graduates and are living well and I am happy to be part of their lives.
Moral decadence is on the increase, and that explains why the Big Brother Naija has been allowed to be shown on national television with series of ungodly scenes, what is your take?
That is one programme I cannot stand. I do not even have enough time to watch serious programmes, let alone sit and watch people eating, drinking or doing all sorts of immoralities. I wonder how such a programme would benefit the Nigerian youths. I think, it is everybody's fault, what Nigeria has turned into. We do not have enough time to educate our children. We have left the children to learn from social media, television and friends.
Most families do not have time to take care of their children like our parents. Everybody is looking for white collar job. Another problem is women who are bankers. A banker wakes up early and comes back very late. They do not have time for their children and the extended family syndrome no longer exists.
In the past, it was easy to commit your children to your neighbour who would take care of them without any problems. But, these days, you dare not do such a thing. And those are some of the things that caused moral decadence. Another contributory factor is the economy as well as government itself. Governments at all levels have not provided the basic necessities for her citizens.
As a female lawmaker, what legacy would you leave behind?
I want posterity to judge me. I love the fact that I have given a niche to my name.
How are you coping as a deputy Chief Whip? Is it not tougher?
It is not tougher rather I relax more as a principal officer than when I was a floor member and also a chairman of a committee. While, the committees are going for oversight function, I relax in my office.
How have you impacted your constituents?
What are you expecting from a legislator like me? I have empowered women and youths in my community. I have provided water. I have constructed roads. And about two roads are now under construction in Alimosho. Although, those were not part of my job as a legislator but it is a way of giving back to the community. Out of the little I have, I still give back to charity.
You projected the Ijegun-Ijegemo road which spurred the state government's decision to commence work on it. How do you feel?
I have been canvassing for the rehabilitation of those roads for seven years. My area is a dry land but I share boundary with Ojo which is the area where you have to construct bridges and that is going to cost lots of money and I think, that was the issue the state government had even the last administration under Babatunde Fashola.
I suggested tolling the road to the state government after it might have been constructed but all to no avail. And I know that rains are fast approaching and people will still face the problem of bad road. Although, state government has not taken the project but I know it will finance it later.
If you leave politics, what would you be doing?
I will be taking care of my grandchildren.
What is your ABC of life?
My ABC of life is do unto others what you want them do unto you. Be ready to lift people up.
The Assembly has been on the front-burner of promoting Yoruba language and the law has been controversial…
I do not know why the law should be controversial. We are Yorubas and this is Yoruba land and we felt that Yoruba language was going into extinction. Ibos speak their language when they are interacting with themselves, likewise the Hausas, but Yorubas are different. Even a Yoruba man with tribal mark will be speaking English language to his fellow Yoruba brother or sister. Our culture was practically going into extinction and that was why we decided to retrace our steps and go back to the basics. We also encouraged people to speak Yoruba language to their children at home. And when they are out of their country, they would be proud of their language.
My daughter was a victim when she was in secondary school. She couldn't speak Yoruba language and her mates were mocking her but she learnt the language and now, she speaks Yoruba better than I, her mother. If we do not imbibe our language in our children, it will be a disaster. How many people do you see prostrating these days? They would rather shake your hands and that is what we are trying to erase. Our culture is rich; it allows you know the good from the bad.
Some are of the opinion that, Lagos is "no man's land" and they are being disadvantaged when Yoruba langauge is imposed upon them.
Lagos is a unique state that welcomes everybody. But, the truth is that some people own Lagos.
How do you relax?
I relax only when I sleep. At times when I am tired, I sleep  5pm  and I do not wake up until the following day.