By Soni Daniel, Northern Region Editor
•Says Buhari has failed and should not be voted again
•Reveals that  APC members are behind the revolt against him
How time flies. In the build up to the 2015 elections, Dr.  Junaid Mohammed, a leading northern politician, was
one of those who campaigned vigorously for the election of Muhammadu Buhari as Nigeria's president. Strangely, barely three years into Buhari's presidency, Junaid is now leading the pack to stop Buhari from going for a second term, accusing him of promoting corruption and nepotism.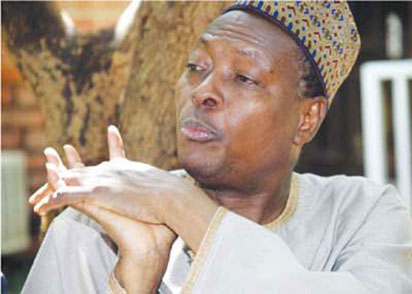 In an interview with Saturday Vanguard, he said Buhari should go home and rest instead of thinking of a second term, having failed Nigerians woefully during his first term which is yet to end
Excerpts:
You must have lifted for joy when both former presidents Olusegun Obasanjo and Ibrahim Babangida wrote statements on why President Buhari should not be considered for a second term
To be honest, none of the two letters came to me as a surprise. They merely reinforced what I have been saying in the last two or three years ago. I have been shouting to the roof top that the Buhari government is full of his family members most of who have no qualification to occupy such positions. I have been shouting but no one was listening that the government was promoting corruption at the highest level while shouting about leading anti-corruption war.
The so-called anti-graft war by the present government is a fraud meant to persecute only those in opposition who stole money but done in a way to protect and defend some others to loot the treasury and go free. You can see that while the Economic and Financial Crimes Commission is pursuing those in the opposition who looted the treasury before the 2015 election, some top officials in the present government who have stolen money are either not arrested and detained or at best investigated.
Members of the National Assembly are doing their best in the Senate and in the House of Representatives and some of the ex-governors are doing their best to make sure that the corruption war is defeated. Nobody can deny that; not even the president himself.
In fact, the mere fact that Buhari has been unable to come to the assistance of the anti-corruption agencies now being ridiculed by corrupt persons in his administration clearly demonstrates that this is not an honest or sincere war. It is selectively being fought and the worse abusers of the commitment to fight against corruption are friends and relations of the president himself.
But that sounds like an irony because even Obasanjo acknowledged that they have fairly done well in the war on corruption and insecurity.
That was a self-seeking assessment by Obasanjo to protect another soldier. Since he found nothing to praise as far as this man's performance in government is concerned, he had to come up with something good to say about the man. Sentiments are also affecting performance of the military in the fight against insecurity.
On the fundamental issue of the economy; I have always described Buhari as lacking on economic matters. He does not know much about the economy and we cannot continue to pretend that he knows anything about it. This man does not know a thing about economy or managing it in order to move Nigeria out of the doldrums.
But even the Borno state Governor himself Kashim Shettima has openly praised the generals for working hard to thin out the insurgents in the Northeast and paving the way for displaced persons to return home.
Shettima must have been speaking not as the Governor of Borno State, but as a politician and a very ambitious politician for that matter. Secondly, I believe that if the war had been fought professionally and without some strings attached to it, it would have long been won.
But how do we place you in this country? You criticised former President Goodluck Jonathan until he left office. You campaigned for the election of Buhari but now you are asking him to quit. Some people may begin to ask what do you really want from every government that comes to power.
Simple reason. I have always believed in assessing people on the level of their performance on ground. I was not praising Buhari because I believed Buhari was an angel.   I never believed in angels being in politics anyway. I believed that during the unfortunate civil war, Buhari exhibited high level of integrity when he held sway as the Quarter Master General and managed the little money that the country had at the time well making it possible for Nigeria to win the war and return to nationhood. Without being an incorruptible man, this would not have been possible.
Subsequently he was given command appointment, lucrative appointment, and petroleum minister and so on, all based on his integrity before and after he went to the war college in the United States of America  and came back. But in all fairness there was nothing spectacular about his performance in all these important political appointments.
Now, when he became Head of States it was clear even to the media that it wasn't he who ran the government; it was Tunde Idiagbon and other younger officers who ran the government for him.
I suggested the idea of a think tank to Buhari and he agreed and he put together a think tank with quite a number of formidable brains and started meeting in 2015 until I stopped coming. I suggested a number of books for all of us to read and those books were procured. One of the books I recommended to Buhari personally, because it has to do with economic matters especially in dealing with the World Bank and the IMF group, was a book written by a Nobel prize laureate in economics, Joseph Stiglitz.
Buhari took the book and opened it, just wrote GMB on it and that was all. Over a year later when I came I found that Buhari had not read two pages out of that book. To me, that is a very dangerous leadership position.
No matter what you say about Obasanjo, he is a very hard working man and he reads and listens and he goes out of his way to get people to come and advise him; the same applies to IBB. Both of them read.
I am scared of a leader who does not read and who does not look for experts and I don't believe any leader no matter how distinguished, who claims and believes that only his own people have all the knowledge in every subject matter in the world; this is a very dangerous attribute Buhari has.
We are moving towards 2019 and two days ago precisely on Saturday, some northern politicians converged on Abuja and one of the decisions they took which may give the impression that indeed the entire north has decided to take a serious political decision was that they are looking for a consensus presidential candidate for next year's election. Is it possible for the north to pick a consensus presidential candidate and if that happens under which party will that be?
Well, while watching the television, I saw some northern names, I saw a couple of Kano names and both seemed to be speaking on an agenda which they claimed to be a northern agenda. I was born in Kano, I grew up in Kano and after my overseas training I came back to settle in Kano. I don't believe anybody who attended the meeting can claim to have attended that meeting on behalf of Kano people because we have history of making our mind and doing our own thing politically and that is why we started opposition politics in this country from 1950. The Kano man I knew those days as I was growing up is still the Kano man I know today.
I find that gathering fanciful because we have had this idea, it was never a progressive idea, and it was never a mainstream idea of the north. The north does not have the prerogative to decide a particular presidential candidate come 2019.  In fact, we believe the north should work hard as any other part of the country if it wants to produce the presidency in 2019.  Nigeria has gone beyond a situation where some powerful people will just sit down and hand pick someone who they know is either ill or weak and impose them on Nigerians.This is what Obasanjo did before and we must learn to walk away from this form of political tragedy now and in the future.
So, who do the people of the north have in mind for 2019 if not Buhari?
It would be premature for me to give you a name because I don't have a name out of my pocket or out of the heart. But I also believe that in politics like in everything else people should and can afford to be rational. The rational thing to assess a politician is to assess him on the basis of what he says before he came into power and on the basis of his performance after coming to power.
If that were one very important rational basis in addition to others then I can't see how anybody will come and say that Buhari should be asked to continue because there is no basis for that.
Don't tell me that maybe I don't know Nigerian politics because I have been in this game for over 45 years having sacrificed my career to go into politics. I am not like some of these generals for whom politics is a retirement job.
But I believe this is a great country and it is worth sacrificing a career for and I don't believe that I have to reach retirement age before engaging in political life.
Buhari came into power with strong promise to make Nigeria better and add value to the people and country. We all believed him and had hopes and expectations on this man. But he has failed woefully in every aspect of the polity. The worse aspect of his failure is nepotism. Why also be indifferent to some people accused of corruption?
This aspect was not evident when he was a governor, minister and GOC. We strongly believe this aspect did not come into light because there was no opportunity for that.
People who worked very closely with him, like Late Chief Sunday Awoniyi, told me the kind of character profile he presented then. Now, we are where we are today, we are confronted with incontrovertible facts that this man has a penchant for appointing his relations, his friends and what have you into key positions. And given the general disappointment that he has caused Nigerians and the failure of his administration to rein in graft, it is not possible that Nigerians can massively vote for him as they did in 2015. I think it would be utterly irrational for them to vote for him again.
I don't like the idea of saying the north can make or unmake a leader; the country does not belong to the north. The north is so badly dented, badly divided and demoralized to the extent that on their own they cannot produce a consensus candidate or any leader, and they cannot because they need other people before they can pass the exam.
So why are we saying that it is the time of the north, which time of the north is it? You are now conferring validity on people who have no value reason to claim to power. If you produce a leader who failed and you produced another one who died in office, so what are we talking about? So, are we saying we have to give them the right to continue leading and you produce somebody who lacks academic qualification and then we are going to go through four or eight years of suffering? God forbid!
So, have you made any effort to see Buhari and perhaps offer him some advice lately, given the way things have been falling apart in his administration?
No, I have not seen him for some time now even though some persons tried to arrange a meeting. Let it be known to all Nigerians that I am not seeking to see Buhari for anything. I must make it clear that I don't need anything from this government and I don't want any post from them.
Now, if you were to see Buhari today what would you advise him to do, given the things you know about him and his government and the feelings of Nigerians about him?
First, I would advise Buhari to retire home so as to be able to take care of his health and his family. Secondly, I would ask him to investigate and ask all those who made humongous fortunes out of   his administration to go and render account how they came about such stupendous wealth.
Tell all your relatives and their in-laws and what have you, who have gotten to important positions in NNPC, ministry of finance, ministry of power and steel and what have you and those who got huge contracts to go and render how they came about the contracts because if the contracts did not follow due process, they should be made to vomit what they swallowed like python.
I would also tell him that economics is a subject matter for which he must have the aptitude and the knowledge. I would make it plain to him that if he does not have economists to run the country, he should go and bring them from wherever they are, whether from the south, from the sea, from IMF, World Bank to come and put the economy right for the overall interest of all Nigerians. Without a sound economy there can be no Nigeria.
Finally, I would tell Buhari that he has failed the nation and that he should give room for others to come and try.
Let me say it here and now that the 2019 election may be very expensive and turbulent if Buhari decides to run because many Nigerians are fed up with him and his administration. He should just go home and rest after managing to finish the first term.
There is likely to be a lot of cross carpeting, don't you think that 2019 may be very expensive?
It will be very expensive, it may be turbulent. A lot will depend on if Buhari is running.
What do you make of the change of election order by the National Assembly after INEC had announced the election timetable?
Clearly, the National Assembly appears to be overreaching itself by going to change and re-order the format of elections which INEC had released about two months ago as part of its constitutional role because the constitution says that it is the duty of INEC to plan, organise and run election.  In my understanding as a learned man it is not correct. In fact it is a glaring example of irresponsible overreach by the Senate and the House of Reps.
Secondly, this breach would not have occurred if Buhari had taken control of the party as the leader that he is supposed to be. But he failed woefully by pretending not to be interested in the affairs of the party and the result is that there has been a hijack by those in the NASS. His declaration that he belongs to nobody contributed to the current mess that you are seeing in the land today.  Members of his party are also the ones leading the revolt against him and the APC in the Senate and House of Representatives and it will surely hurt him as a weak leader.  He is the architect of his misfortune and the mess that is now playing out in the National Assembly.
And the idea that people who won election into the parliament on the same platform with the President now behaving as opponents of the president and their party and behaving as if they in the NASS are superior to the president and all Nigerians is arrant nonsense and that has happened because the system that brought them is utterly bankrupt.
We knew what happened.   Of course, we knew how  the leadership of both the Senate and House of Representatives emerged.. For the President to assume that he is everybody's head belonging to nobody, you can see how naïve and dangerous such a claim could be. He created the crisis that is now threatening to swallow him and his party.