LEO; Hard work will not go unrewarded if not today very soon. Important development coming through your working arena soonest will place you at advantage position. The more practical you are the better.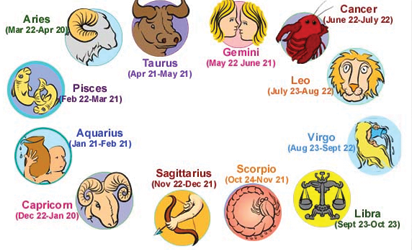 VIRGO; Love, romance and sentimental things can not be ignored completely today unless you want your concentration to waver .Be more enterprising in the business world Anyway success indicated for you today..
LIBRA; Happenings within your base of operation (both at home and at work) must be taken more seriously now, more especially as there'll be competition
SCORPIO; Both your mood and element of luck may not be as friendly as you'll like.. Matters of the heart may top priority lists of some of you. But mind you your mood will change tomorrow.
SAGITTARIUS; If financial success is your priority you'll need to redouble your efforts today and tomorrow. Be protective of your possessions and personal family.
CAPRICORN; The Moon in your Star sign gives you the needed opportunity to assert yourself to the admiration of other people. You can make it a romantic day. Experiment with your personal ideas.
AQUARIUS; Here is your day when element of luck will work favourably for you. Secret lovers are in for an exciting and memorable day. Keep your secrets please.
PISCES; If you wait till tomorrow before you make an important move ,you may be disappointed , because tomorrow's influence will bring you more challenges than you can rightly anticipate now. But greater success indicated for you today.
ARIES; Very soon there'll be important development along your career line. But today will offer you best of opportunity and good luck to achieve your desired results. Be more ambitious now
TAURUS; Here is a loving day for those of you willing to give priority attention to matters of the heart. Planning for both immediate and far future'll not be out of place. And it's good to think money.
GEMINI: This is the wrong time to gamble either with your physical cash or your source of income. Take nobody for granted. Take love more seriously.
CANCER; Partnership related issues are becoming more important and if you try to sweep anything under carpet now, it'll back-fire sooner than expected. Take your love life more seriously than before.
By Joshua Adeyemo Phone 08056180139
What's my best colour?
Dear Joshua,
I want your in-depth analysis and tell me about my social life, luck and the time I am likely to have my much desired break-through in life. Which day of the week was I born. And importantly what is my best colour?
Anonymous Nigeria.
Dear Anonymous,
You were born on a Saturday. What you will find here-under will answer your questions.
Social life will always bring you attention good luck envy opposition and possibly fame. Aquarius and Leo are two most active social Star signs. And you will notice that your natal Venus in Taurus, Moon in Aquarius and Uranus in Leo formed T-Square aspects putting Venus as point-focus, meaning that the best way for you not to be constant loser in the social world is to always study situation practically and know that your finance will not suffer (if it can not be beneficiary) from the setting before taking responsibility.
As for influential friends you will have them but never always take them for granted.
Yes you can be a self made man but it is indicated that there will be times when both human and divine assistance will lift you up. You will have more to gain by your being spiritual .Saturday born people are favoured by BLACK and golden colours.
Sudden SUCCESS will come your way during your 40th year on earth and will serve as a break-through year you can build great foundation of endless success on. But the same 40th year will bring love related challenges you must manage with all maturity or else it will linger till after your 42th year on earth.