Sen. Joseph Waku, Pro-Chancellor, Federal University of Technology, Akure has called on security agencies to fish out and prosecute those responsible for recent deadly attacks on Benue rural communities.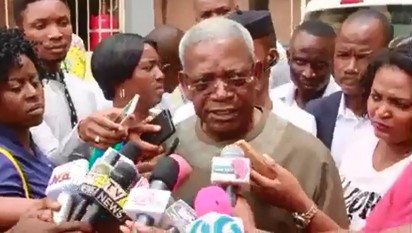 Newsmen recall that gunmen last week invaded villages in Guma and Logo Local Governments, killing scores and burning several houses.
According to the Benue State Emergency Management Agency, 71 persons were killed in the attack that displaced more than 40,000 people.
Reacting to the attack in an interview with newsmen on Tuesday in Makurdi, Waku particularly urged security agencies to go after leaders of the Miyetti Allah Cattle Breeders Association (MACBAN), who he accused of making "provocative statements" before the Jan.1 attack.
He accused the cattle breeders of vowing to disobey the Benue anti-open law "even before it was promulgated".
Waku called on President Muhammadu Buhari to hold MACBAN leaders responsible for the attack "especially when some of its officials claimed the killings in the state were in response to the theft of their cattle by Benue villagers".
He urged Buhari to order security agencies to also go after those encouraging the violence to demonstrate a commitment to securing Nigerians from violence attacks.
"The Federal Government must act swiftly to restore law and order. Clearly, the situation is beyond the state government," he said.
Newsmen quotes Malam Yusuf Ardo, MACBAN National Publicity Secretary, as telling newsmen recently that the anti-open grazing law passed by the Benue Government was targeted at herdsmen.
Ardo had argued that the restriction of open grazing was not healthy for the specie of cattle the reared in Nigeria, and explained that the cows "consume a lot".
Benue Governor Samuel Ortom has consistently blamed the violence on herdsmen who, he said, were not happy over the anti-open grazing law passed in July 2017.
The law, which came into effect on Nov. 1, was expected to ward off farmers/herders clashes by checking open grazing that had often led to cows straying into farms.
Newsmen report that the law mandates cattle breeders to establish ranches, with the state government promising to assist the herdsmen to acquire land for that purpose.
NAN