By Nkiruka Nnorom
Foreign investors' interest in the equities market has remained on the rise with its percentage contribution to the total equities transaction on the Nigerian Stock Exchange, NSE, rising by 241.1 percent in 11 months ending November 30, 2017.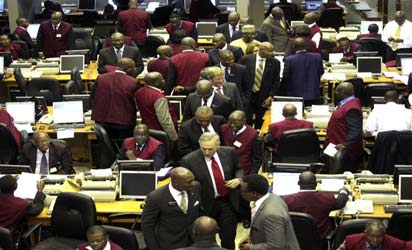 Specifically, foreign investors' participation rose to N150.10 billion in November 2017 from N44.01 billion in January last year.
Latest figure on domestic and foreign portfolio participation in equities trading from the Exchange showed that  Foreign Portfolio Investment, FPI, inflow outpaced the FPI outflow during the 11 month period.
Figures from the Exchange showed that there has been a consistent increase in FPI over the last six months following the introduction of  the Investors and Exporters (I&) foreign change window by the Central Bank of Nigeria, CBN, in April to  boost liquidity in the forex market and ensure timely execution and settlement of eligible transactions.
Analysis of figures released at the NSE showed that the FPI inflow was up 302.3 percent, while outflow for the same period increased by 176.4 percent.
Market watchers attributed  the growing appetite for the equities on favourable policy outcome and general improvement in the macro- economic environment.
Though the aggregate domestic investors' contribution to the total portfolio investment in the market lagged behind their foreign counterparts,  it showed appreciable increase of 150.2 percent during the period. The data showed that domestic investors' participation rose to N128.39 billion from N51.31 billion in January. 2017.
On a month-to-month basis,  foreign investors staked N150.10 billion in November compared to N64.67 billion in October, representing 121.9 percent increase and 53.90 percent of  the N278.49 billion total portfolio investment in the market within the month.
The data showed that foreign investors out-performed domestic investors by 7.8 percent. Total domestic transactions increased by 113.34 percent from N60.18 billion to N128.39 billion within the one month period.
Also, the FPI inflow outpaced the outflow for the period. The FPI inflow stood at N90.96 billion, a 129.9 percent increase compared to N39.56 billion inflow in October and 35 percent increase over the N59.14 billion total FPI outflow during the period.
The domestic composition of transactions on the Exchange showed that the institutional composition of the domestic market increased by 158.36 percent from N33.00 billion recorded in October to N85.26 billion in November 2017. The retail composition also increased by 58.68 percent from N27.18 billion to N43.13 billion within the same period. This indicates a higher participation by institutional investors over their retail counterparts.
Total transactions at the nation's bourse significantly increased by 117.88 percent from N127.82 billion recorded in October 2017 to N278.49 billion in November 2017. The aggregate value of transactions from January to November 2017 increased by 95.45 percent from N1.055 trillion recorded in 2016 to N2.062 trillion in 2017.