By Egufe Yafugborhi & Gbenga Oke
PORT HARCOURT –— Senator Magnus Abe, yesterday, faulted  Governor Nyesom Wike's state-wide broadcast in which he declared some persons wanted for perceived criminalities, following killings that rocked Omoku area of Rivers State.
Speaking at his home in Port Harcourt, Sen. Abe said: "Declaring people wanted should come from the police and not the governor. It should be a product of investigation which is the responsibility of the police, not the governor. I don't agree with that.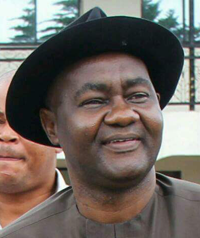 "The governor is a politician and politicians should not be the ones declaring people wanted, but I do support the governor's placing of bounty to assist in the arrest of criminals. That encourages information gathering which is good for clearing society of the dangers criminals pose."
Amaechi's broadcast scary—GDI
Meanwhile,  Grassroots Democratic Initiative, GDI, a Rivers PDP interest group, while reacting to the initial broadcast by Transportation Minister, Chibuike Amaechi, described his views as "Scary and a call for President Muhammadu Buhari to immediately sack him."
GDI, speaking through its Secretary-General, Samuel Nwanosike, said: "Nigerians can see clearly that Amaechi has lost touch with clarity. What he has said means clearly that President Buhari should sack him so that Nigerians can move forward because the statements credited to him are all scary.
"A man who left office as governor as recently as May 28, 2015 has suddenly forgotten that under his watch, a lot of killings happened in Rivers State. In 2014 to be specific, Don Waney killed many persons under Amaechi's watch as governor."
Dakuku Peterside
On his part,  Director-General of the Nigerian Maritime Administration and Safety Agency, NIMASA, Dr. Dakuku Peterside, has described the action of Governor Wike, placing cash ransom on 32 verified notorious cultists, kidnappers, terrorists and murderers in 12 local government areas of the state, as a mere smokescreen to cover up for the failure of his government.
Peterside also said the speech delivered by Wike was an attempt to massage the ego of people who are already traumatized and bruised.
In a statement by his media office, Peterside, he said: "As always, rather than own up to obvious failure, Wike made an unsubstantiated allegation against an unnamed "former governor and his ilk," claiming they had interfered with the state government's amnesty programme. "Lies, no matter how long told, will never cover the truth. Wike's amnesty programme was not planned to end insecurity in Rivers State but to offer state cover to designated criminals for purposes known to their patrons. In his understanding of governance, Wike believes that offering financial baits would turn his complicity in this whole saga around. Rivers people cannot be fooled by this display of ineptitude. Wike's offer of another tranche of cash to criminals is no remediation for the pains, loss, and agony caused families," he said.
Also, the All Progressives Congress, APC, in the state has described as frivolous, a 32-man list of supposed cultists and kidnappers released by Wike for security operatives to go after as wanted persons and contained in his Monday night broadcast,  following the killing of Don Waney.
Rivers APC Chairman, Chief Davies Ikanya, in a statement yesterday in Port Harcourt, said, "The truth has come out. Wike merely compiled names of cult groups opposed to his own gang."
names of his hit-men known to have fallen out with him, then some APC members and is asking for their arrests.
"How did the governor know those persons as criminals as he claimed and never did anything since he came into office over two years ago? Why did he not make the names of those individuals available to security agents for arrest, investigation and prosecution? Ikanya quarried.