By Japhet Alakam
Nigeria is set to join the league of countries with textile museum courtesy of renowned artist, Nike Davies-Okundaye.  founder of Nike Art gallery Lagos. The textile museum which will be the first in the country is  being conceived as part of a big cultural centre to be built on a six-acre land said to have been acquired by the artist's family a few years ago.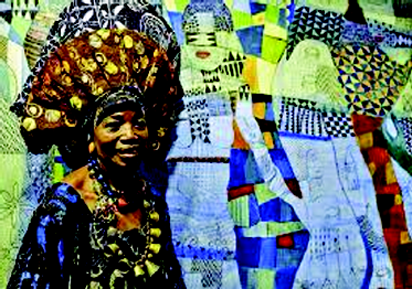 This was disclosed by Chief Reuben Okundaye, husband of the artist who stated that the proposed textile museum will be sited at the Art Village in Abuja.  Chief Nike, or Mama Nike, as she is popularly called is an award-winning designer, artist, textile designer and a spectacular woman  who is passionate at textiles. Her passion in textile goes beyond producing the well-known Yoruba native adire fabric and that is also reflected with her attire as she adorns her products at all occasions. She is not just collector of modern Nigerian textiles across cultures she is also a producer who has mentored many, especially women in the art of Adire making.
Speaking about the museum, Chief Okundaye who noted that the country is fast losing its traditional textiles and something has to be done said, "we have just been able to complete payment for our six acres of land in Abuja, on which we plan to build an Art Village, and the museum when completed will house some of my wife's over two thousand collections in textiles, which is currently housed on the top floor of Nike Art Centre, Lekki, Lagos." " When the proposed Textile Museum becomes a reality, Nike, again, will enter into the Guiness book of records as a woman who excelled in the male dominated art industry, as her art gallery, the Nike Art Centre is the only visible spot for modern and contemporary art in Lagos.