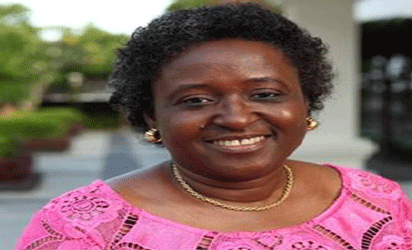 Mojisola Odeku
During the 60th  National Conference onHealth, NCH, Project Director, Nigerian Urban Reproductive Health Initiative (NURHI), Dr Mojisola Odeku, speaks about the essence of The Challenge Initiative, TCI. Excerpts.
By Sola Ogundipe
The Challenge Initiative, TCI, is doing business in an unusual way. It's really nothing new but a practical way of ensuring that the owners of the land take it back for themselves with us just providing the light technical assistance.
In reality, what this means is that the State and Local Government Areas are taking ownership in scaling up a home grown model that has worked for Nigeria in increasing modern use of contraceptives for family planning in our bid to reduce maternal mortality.
Evidence has shown that if we embrace and scale up family planning, we would reduce deaths of mothers by 30 percent and promote child survival by 25 percent.
So really, it is a quick win if we really must ensure that maternal and child survival which we have all signed to as a community of practice in the State and National levels but actually put in action rather than lip service.
We have found it is cost effective rather than tackling emergencies and other secondary issues that emanate from lack of spacing your family, or limiting it when you are satisfied with the number that you want.
This initiative called TCI is led by the government, which means for the first time, government will show expression of interest that they are interested in scaling up this model that we have rolled out in some other parts of the country.
Evidence has shown that TCI is working and so, they want to use it, integrate it into their existing plans and make that action a reality in the community especially among the poor who really need it and are the voiceless, who really do not have funds when it comes to out-of pocket expenses.
Ogun State is doing so much in that area in reaching out through many of the medical outreaches. The State is at the forefront of taking this challenge initiative and integrate and make things more effective in the machinery that has already been set up.
The journey actually started last year when this idea came on board and different states were showing interest. But then taking the whole hog need the buy-in of everyone led by the Chief Executive of the State and the Commissioners and those who make things work for the policy to be on board.
Many states have not come to that level yet, but Ogun has taken the initiative followed by Kano and Delta States. These are the first three states that have journeyed with us since the beginning of the year and have started plans for its implementation.
The challenges are everywhere. For instance, many states are not reporting happenings in their states. Nigeria is facing recession but we believe in the midst of it all, we would not put our hands up and say, no hope.
There is hope in the midst of all these challenges; there are models we can adopt to make a difference, and that is what Ogun and other states have done.
It's not that they are there yet. But being proactive, being innovative to look at evidence based approaches that can help them to reach their goal post.
Our vision is in line with the global vision of FP2020 and most importantly in tandem with the vision of Nigeria 2030 National blueprint which is being realigned into the SDGs of 2030 which is also being integrated into the National Strategic Health Development plan