LeBron James congratulated himself on reaching the landmark 30,000-points barrier on Tuesday — even though he remains seven points short of the milestone.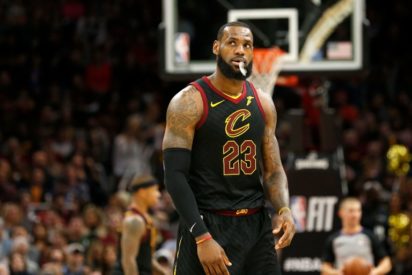 The 33-year-old superstar is poised to become the youngest player in NBA history to reach 30,000 points mark later Tuesday when the Cleveland Cavaliers take on the San Antonio Spurs in Texas.
James pre-empted his achievement with a light-hearted posting on Instagram early Tuesday that acknowledged his place in NBA history.
Alongside a picture of James playing during his high school career, the Cavs star wrote: "Wanna be one of the first to Congratulate you on this accomplishment/achievement tonight that you'll reach!"
"Only a handful has reach/seen it too and while I know it's never been a goal of yours from the beginning try(please try) to take a moment for yourself on how you've done it."
James will be joining an elite band of NBA icons if he reaches 30,000 points as expected later Tuesday.
Only six other players — Kareem Abdul-Jabbar, Karl Malone, Kobe Bryant, Michael Jordan, Wilt Chamberlain and Dirk Nowitzki — have achieved the mark.
James has scored at least 10 points per game in his last 836 appearances, and has averaged 26.8 points per game.
Commenters mocked James' pre-emptive self-congratulation in remarks beneath the post.
"Good to know you're humble too," one poster wrote.
"Is there a 'pat yourself on the back' emoji?" wrote another.
Another user added: "Find someone who loves you as much as LeBron loves LeBron."